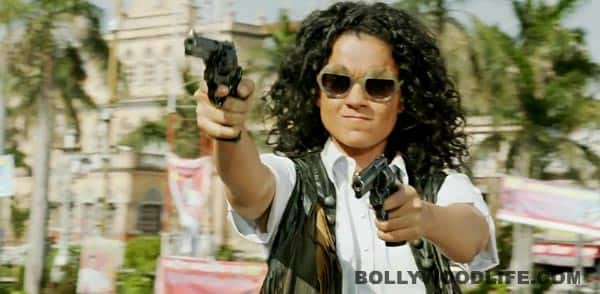 The curly haired babe, who is riding high on the success of her last film Queen, is all set to woo the audience once again. Her next film Revolver Rani will hit the theatres this Friday but will it impress the audience and critics alike just like Vikas Bahl's directorial venture did? Read on to know…
Kangana Ranaut and Vir Das starrer Revolver Rani will release this week. Directed by Sai Kabir, the film is produced by Tigmanshu Dhulia who feels it's a complete B grade entertainment flick which will appeal to the masses. Also, Kangy's role in this action comedy is twisted, controversial, sick, wild and psychotic which has got the movie goers curious about what's in store for them. Not to forget, the Gangster babe has been in the limelight ever since her film Queen has released. Her flawless performance in Vikas Bahl's chick flick won millions of hearts and that's one reason why expectations are high from Kangy's next. So will Ms Ranaut hit the bullseye this time too? Well, it would be tough since Rajeev Khandelwal's detective film Samrat & Co and Subhash Ghai's Kaanchi starring newbie Mishti Mukherjee will also release on the same day. With three films clashing at the box office this week, which one will take away the bigger money pie?
Exhibitor-distributor Akshaye Rathi says, "All the three movies look like they are at par with each other on paper. While Queen did phenomenal business at the box office, it was the film's content that drew in the audience rather than Kangana Ranaut! If Kangana was as big a draw, her last outing – Rajjo would have been a smash hit as well! So Revolver Rani depends entirely on the quality of content! As for Kaanchi, Subhash Ghai lives up to his reputation of being a showman and he has spent a bomb on a cast that is led by fresh faces! Going back to the genre he has always excelled in, I'm hopeful of seeing him score well with the audience! Samrat & Co is a well made, edge of the seat thriller that is all set to add a new dimension to the perceived image of Rajshri! With a few catchy songs, a very intelligent plot line and great thrills, this film should get a great word of mouth and be a slow but steady horse in the race, which will cross the finish line in style."
Ace astro-numerologist Bhavikk Sangghvi feels Kangana's upcoming film would certainly manage to pull the crowds in the theatres. He predicts, "As per the numerological meaning derived, it seems the film will definitely appeal to its target audience who like watching 'hatke' entertainment with black humour and a dose of bold sexual content."
We hope the Queen actor's success streak continues with Revolver Rani but it won't be easy with two other films hitting the screens simultaneously, hai na?