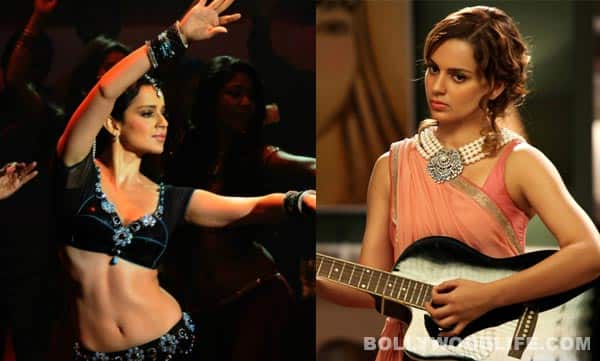 After a series of flops in the recent past, looks like the babe has finally got a chance to lay her hands on some super meaty projects  as she enters her 26th year
Born on March 20, 1987, Kangna Ranaut will be seen doing it all this year….well…almost! From getting into the futuristic garb of a mutant to revisiting the era of nautch girls, KR is getting to live some interesting characters through her films this year.It's an enviable list and you never know, this dark horse might just sweep all the prestigious awards off the shelves this time. A long time ago Ranaut  said in an interview that being out of work doesn't affect a celeb too much, 'coz she can quite easily sustain herself by cutting ribbons and attending launches. The moolah keeps pouring in, films or no films. But with so many movies on her designer plate, we doubt if the sexy babe will have the time to wield any scissors this year. And we are glad that she's doing things that are much more challenging than dolling up for events.
So here are the interesting films KR will be a part of this year:
I Love NY
The actor plays a Chicago chick in the film. But unlike a street smart town girl, KR surprises Sunny Deol – who's her co-star in the film – by turning out to be a slightly slow, goofy and a dependant sort of a girl.
Shootout at Wadala
Playing the love interest of Many Surve( John Abraham) in the film is a decent enough role to be prove your spurs as an actor. Let's see how KR keeps her gangster beau under control.
Krrish 3
Nothing much has been revealed about her role yet. Some say she's playing an out and out evil part, stepping into the shoes of a mutant and indulging in some hardcore and innovative action sequences.
Rajjo
People who have hardly seen the babe doing any heavy-duty dancing will get to see her in a nautch-girl avatar. Let's see if she gets the nazakat and those graceful moves right…
Revolver Rani
Kangy will turn super ugly for her role in this film. So don't be shocked if those pearly whites are replaced with abysmal protruding teeth and her glowing skin is transformed into a dull dusky shade.
Queen
The oh-so-glam babe will go all de-glam for her role in Queen. All we know is that she plays a chick from Delhi who is dumped on her wedding day and the movie is directed by Chillar Party dude Vikas Bahl.