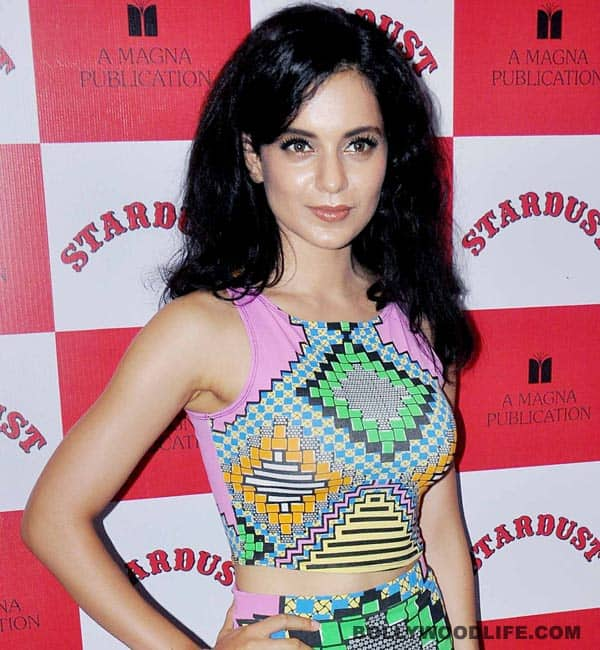 Yes, the B-town babe has sung a full-fledged romantic number in the new Rakesh Roshan film Krrish 3. While many Bollywood actors have tried their hand at singing and even succeeded, wethinks this is one area Kangs should stay away from…
Looks like Kangna Ranaut was inspired by her co-star Priyanaka Chopra – she has sung a song for her new film, Krrish 3, starring PC, Hrithik Roshan and Vivek Oberoi too. But while PeeCee managed to woo critics and fans all around the globe with her 'Exotic' voice, we aren't sure if the curly haired actress with that admittedly exotic Pahadi accent will receive the same reaction. Ever since Kangna entered the industry, she has always been made fun of and critised by the media for the way she speaks. Though she is a terrific actor, Ms Ranaut has received mixed reviews for her dialogue delivery. In fact, the Gangster gal admitted in an interview that she didn't speak Hindi while growing up and only learned English when she came to Mumbai.
Now we all know that today the kudi speaks Hindi quite well and has taken lessons to improve her diction, but singing is much more than just getting pronunciations right, no? To be a successful singer one needs to have a melodious, sensuous or sexy voice and wethinks Kangna's is nowhere close to any of this. And we are sure most of you will agree with us – don't you? With the most important factor missing, we aren't sure if the audience will be pleased with Kangna's singing. But we wait to find out if the song makes it to the final cut of Krrish 3.
But the question remains unanswered – what compelled the I Love New Year lady to show off her vocal skills? Do you know?