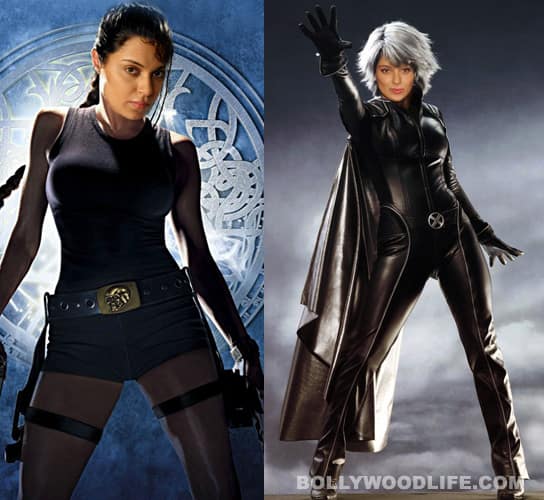 Are our filmmakers seriously short of original concepts or do they just love to flaunt their international fixation to publicise their films?
Ever since Krrish 3 team began filming the superhero sequel, the cast and film's PR machinery has been sending out various juicy details to keep the movie in news. The recent story that is doing the rounds is on the female mutant Kangna Ranaut's look in the film. There are two conflicting reports on what she will dress and look like in the next edition of Krrish. According to one report, the curly-haired lady will be flaunting her lean body in tube tops and tight pants like Angelina Jolie did for her Lara Croft act in Tomb Raider. Another report claims that Kangy will slip into tube top style jumpsuits like the ones Halle Berry wore for her role of Ororo Monroe / Storm in X-Men. First of all Kangy dear, please tell your people to get the facts right, 'coz there is a big difference in the two action characters! Secondly, why do we always look westward for inspiration?
An out and out female mutant maybe a new thing in B-town, but back in the 80s we have had our share of action babes in the socio-economic dramas. Remember those ghaghra-choli clad village belle turned revenge-seeking daku queens (Rakhee in Taaqat) and gun-toting police inspectors (Rekha in Insaaf Ki Awaz and Dimple Kapadia in Zakhmi Aurat)? They may not be the best exemplars to draw inspiration from, but it's time we took it forward and came up with an original bad-ass girl that can outshine the Lara Crofts and Ororo Monroes of the world!