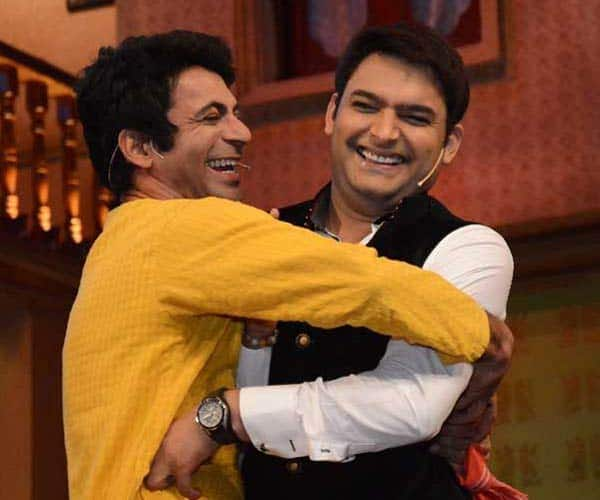 Ever since Mad In India shut shop, there have been hush-hush talks about Gutthi's return on Comedy Nights With Kapil
Kapil Sharma and Sunil Grover's partnership and chemistry in Comedy Nights With Kapil took telly land by storm. However, soon there was a war of words when Sunil decided to walk out of CNWK and start his own stand-up show, Mad In India with Manish Paul. Sources close to Kapil's camp have revealed to BollywoodLife that Gutthi's comeback on the show might just happen sometime soon.
When BollywoodLife tried to get in touch with Sunil, he wasn't available. But, Kapil's close aides confirm that Gutthi and Bittoo Sharma are real life friends and them reuniting on CNWK is no big deal. Kapil had in an earlier interview said, "If he wishes to come, then he is most welcome. I never wanted him to go either, but it was his own decision. Every person has a right to think about his own growth. Even I left a show to start my own. So if I can do, why not him! He has all the right to do that. I have never seen him as a competitor as we have different time slots. Sunil is a very good actor, so wherever he will go, he will do good. But sometimes it happens that an actor is very good, but there are other things as well that makes a show successful. I would not say that 'Comedy Nights' is doing good only because of me, it depends on the whole team and I would say everything works in favour of you only by god's grace. My best wishes are with him."
He also feels that Sunil and his partnership is a sure shot hit. He said, "Sunil had a better platform with me. There was something special when we worked together. I even had a chat with him on this before he left."
Well, looks like all's finally well between the friends turned competitors. And with Kapil not having replaced Sunil's character on the show, it only means that scope for Gutthi's comeback is still there. BollywoodLifers, do you wanna see Kapil and Gutthi rock CNWK again?
Here's a video of Gutthi Kapil's awesome chemistry on  the show…