The fight just got uglier. While up till now, Kapil Sharma was making his fans believe that he and Sunil Grover haven't fallen out and that it was just a 'healthy fight'. Sunil Grover has now exposed Kapil Sharma's reality by not only accusing him of 'ill treating' him but also dropping hints on quitting The Kapil Sharma Show. Yes, Sunil in his recent tweet finally broke his silence on being badly hurt by Kapil. He wrote, "Refrain from using foul language in front of women who had nothing to do with the stardom you carry, they are by chance just traveling with you. Thanks for making me realise it was your show and you have power to throw out anybody, anytime. You are the wittiest, and the best in your field. But don't act like a 'God'." Clearly, major differences have crept in between the two. But you know what's worse? Also read: A hurt Sunil Grover hits back at Kapil Sharma, says Don't act like a God
Despite Sunil's befitting reply to Kapil's starry attitude, the latter is still trying to mend ways and pretend as if nothing much has changed between the two. We scrolled down the comments on Sunil's above tweet and we found Kapil tweeting much love to Sunil and confessing that he misses him on the show. He wrote, "today packed up at 6 am after so long n I missed so many things.. love u .. see u in evening at ur home." Following which, he further added, "@WhoSunilGrover paji dil jitt liya tusi.. now I love u more n more n more .. hun bada mazaa aan wala a.. akal aan to baad.. I love u."
Here, check out the tweets below:
From a friend, with love @KapilSharmaK9 pic.twitter.com/2c7uQ5jqH5

— Sunil Grover (@WhoSunilGrover) March 21, 2017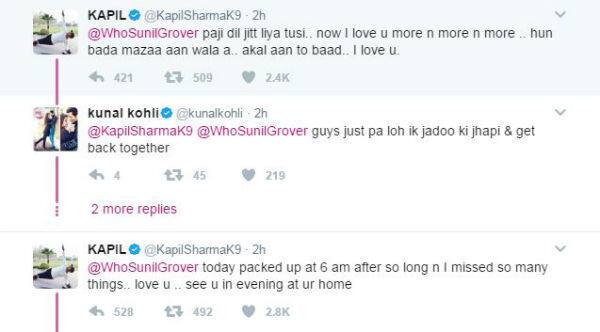 Now it's left to see if Kapil actually manages to meet Sunil and convince him to get back on his show. Do you think Kapil and Sunil will bury the hatchet or is it the end of their partnership once and for all? You can drop your thoughts in the comments below as we'll be back with more updates on this hot story, right here only on BollywoodLife.