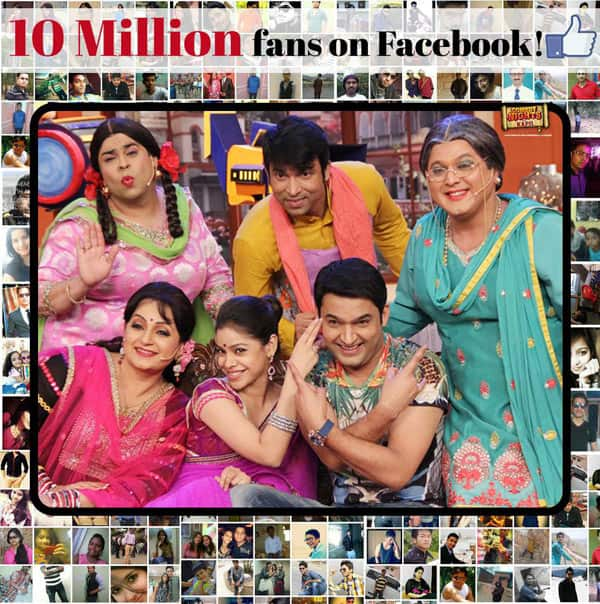 India's current comic craze is quite elated after his popular show's Facebook page earns a whopping 10 million fans
They say success can't be measured but in the case of Comedy Nights with Kapil, success sure can be measured and in millions! Last evening, the shows Facebook page crossed a 10 whopping million fans – a first for any Indian television show on the social media platform.
It's been less than a year and the show's popularity has shot through the roof. The humorous banter between Kapil Sharma and his wacky family – wife (Sumona Chakravarti), dadi (Ali Asgar), naukar Raju (Chandan Prabhakar), bua (Upasana Singh), neighbour Palak (Kiku Sharda) and friend-cum-spectator Navjot Singh Sidhu have become household names. The show's format enables revered personalities from different walks of life to come together and add a touch of laughter to viewers' lives every weekend. Over the months, the show has featured multiple celebrities, adding much excitement and star power while creating an unadulterated entertainment experience. In fact, thanks to the craze of the show, Kapil's personal Facebook fan page has more than 10 million fans already beating the fan base of stalwarts like Shahrukh Khan and Akshay Kumar and now even the show's fan page is following the suit.
Speaking about the milestone that the show has achieved, producer and show host Kapil said, "Our heartfelt thanks to everyone who 'likes' our page and shares our content with their friends. Comedy Nights… is not only the No.1 show in terms of viewership, but now also in terms of fan base. It's a signal of approval from the viewers on social media all across the globe that we are creating a product which people love to watch not only on TV but also consume it on other digital platforms like Facebook, Twitter, YouTube and the mobile app. In successful collaboration with the Colors team and continued support from our fans, my little hobby of making people laugh has grown into a flourishing content on television, one that I will strive harder to better even further."
Adding to this, an elated Palak aka Kiku Sharda said, "Comedy Nights With Kapil is extremely special to me. I would like to thank the viewers, especially the facebook fans for their appreciation for every avatar that I have adopted be it Palak or Laccha or Palak's Mom." According to Kapil's dearest Dadi aka Ali Asgar, "Whoever thought that a perpetually drunk grandmother could become such a rage? I have noticed that more and more fans on Facebook and Twitter have been reaching out to me asking for a 'Shagun Ki Pappi' almost like the might be seeking blessings before taking on any crucial activities in their life. Comedy Nights With Kapil has enabled me to experiment with my acting skills and the feedback from audiences has been absolutely fantastic!"
We at BollywoodLife congratulate the entire cast and crew of CNWK for this phenomenal success, and hope that they continue to entertain us forever and ever.