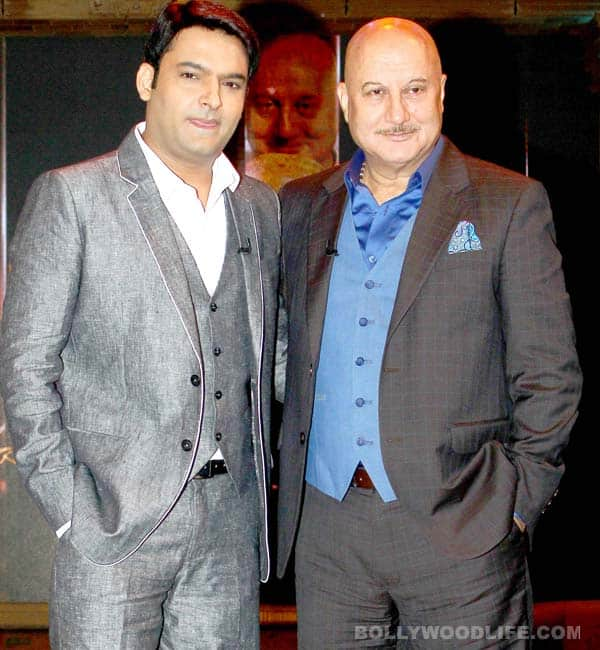 With Anupam Kher rumored to have Kapil Sharma as his first guest on his new show, it looks like comedian's popularity and fame has outdone that of Bollywood celebs
When it comes to humor, there is no beating Kapil Sharma. With Comedy Nights with Kapil hosted by him becoming one of the most popular entertainment shows on television today, Sharma continues to be appreciated for his infectious charm and impeccable comic timing. With three movies in the pipeline and a massive fan following, this Amritsari munda has truly emerged as a celebrity in every sense.
Saaransh fame Anupam Kher will be seen beginning a new chapter in his life with his upcoming show The Anupam Kher Show-Kuch Bhi Ho Sakta Hai. The format of the show is similar to Jeena Isi Ka Naam Hai formerly hosted by the late Farooq Shaikh where the lives of celebrities are brought under the microscope and are dissected into categories of love, heartbreaks, failures, success stories etc.
CEO of Colors Raj Nayak said, "For the first time ever, audiences will experience the lives of celebrities not through rose tinted glasses, but rather as human beings who will reveal hitherto unknown facets of their lives through the show. It will give them a glimpse into a world hitherto unknown to them."
The show is said to host Kapil Sharma as its first guest. Always seen entertaining the viewers through his witty tactics and one liners, it would surely be something else to see the star be put in the spotlight with his other side being brought forth. Well it's safe to say that it's not always the Khans and Kapoors who lead the rat race. Looks like, the Sharma lad is taking over and no one is complaining!