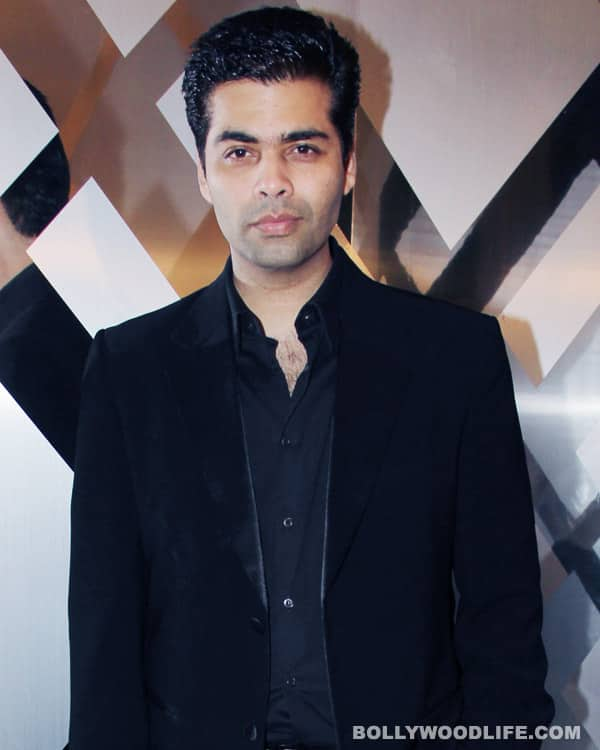 KJo turns a year older today and as we wish him all happiness, we take a look at his relationships with his protégés
Karan Johar turns 40 today and from what we've heard, he is going to celebrate with a huge bash, but no cake or candles, he insists. Speculation about who has been invited and who has been left out has run the gamut, but we know about four guests for sure. They are the leads of his next film Student Of The Year and they will be at the party since the birthday boy has big plans of introducing them to his guests. That bit of news got us thinking about all the other newcomers that he has backed over the years:
Nikhil Advani – Kal Ho Naa Ho
After directing two hit films, Karan handed over the reins of his script to someone else to helm for the first time in 2001. He chose Nikhil for this huge responsibility and when the film released two years later, it seemed that Karan had done the right thing. Kal Ho Naa Ho was a critical and commercial success. Industry insiders claimed the two were very good friends in their personal life too, so when they decided to part ways it came as a shock to everyone. Nikhil went on to make more flop films (Chandni Chowk To China, Patiala House et al) while Karan made bigger hits. Their cold relations thawed after a while when Nikhil publicly expressed his support for My Name Is Khan.
Soham Shah – Kaal
Kaal, said naysayers, was destined to be a dud. A first-time director was helming a film in a genre that is yet to gain acceptance with Bollywood audiences. Yet KJo backed him, brought in Ajay Devgn and an item number by Shahrukh Khan. None of his efforts worked and the film bombed at the box office. Soon after, the two had a falling out. Rumours state it had something to do with Soham's choice of cast for Luck, but they have never been substantiated.
Tarun Mansukhani – Dostana
Twice burned but never shy, Karan invested his faith, time and money in Tarun's Dostana. It paid off and Dostana went on to become one of the bigger hits of 2008. The two even planned a sequel, but somehow that never worked out. This spun the rumour mills into overdrive, all claiming that Tarun and Karan had fallen out and that's why Dostana 2 didn't happen. However, both Tarun and Karan insisted it was because they couldn't lock in on a proper script that would do justice to fans' expectations. Last we heard, the script is in place, Abhishek Bachchan and John Abraham will reprise their roles and Katrina Kaif will be the new leading lady. It's set to start filming some time this year.
Ayan Mukerji – Wake Up Sid
KJo saw success again when he produced Ayan's debut film. The storyline was fresh, as was the pairing of Ranbir Kapoor and Konkona Sensharma. Many thought that Karan was taking a huge risk, but it paid off. Wake Up Sid! was a critical and commercial success. Karan is now backing Ayan's second venture, Yeh Jawani Hai Diwani, starring exes Ranbir Kapoor and Deepika Padukone.
Rensil D'Silva – Kurbaan
Karan's good times as producer came to an abrupt halt with Kurbaan. Impressed with Rensil's scriptwriting skills (as seen in Rang De Basanti), KJo backed his first directorial venture. He even got Saif Ali Khan, Kareena Kapoor and Vivek Oberoi on board, added a few steamy scenes and several lovely songs. Nothing worked; the film tanked at the box office. Karan's relationship with Rensil remains cordial, last heard.
Punit Malhotra, Sonam Kapoor and Imran Khan – I Hate Luv Storys
Karan Johar shares a great relationship with his long-time collaborator, fashion designer Manish Malhotra. It was but natural that when Manish's nephew Punit wanted to debut as a filmmaker, he turned to Karan. Johar provided him with all the support he needed, even letting himself be caricatured in the film. He agreed to Punit's request to cast Sonam Kapoor – who had no hits to her name till then – opposite Imran Khan – whose good luck had run out after Jaane Tu… Ya Jaane Na. Karan waved his magic wand and voila! I Hate Luv Storys was a runaway hit and gave all their careers a boost.
Siddharth Malhotra – We Are Family
The magic of that wand seemed to have flickered out with We Are Family. Karan saw potential in Siddharth who, unlike his other protégés,came from an illustrious filmi family – he was the grandson of yesteryear villain Prem Nath. His father Prem Kishen too was a successful actor, but Sid preferred to be behind the camera. Karan not only bought the rights to officially remake the Hollywood flick Stepmom for Sid, but also extended his support beyond the film and helped an overweight Sid slim down. He approached Shahrukh to release Kareena Kapoor from the dates she had given to RA.One so that she could complete and promote We Are Family instead. The film was an average grosser, but Siddharth and Karan are busy planning their second film.
Karan Malhotra – Agneepath
It was Karan who gave Karan the idea to remake Agneepath. Uh oh. Confusing, isn't it? The story goes that Malhotra was assisting Johar on My Name Is Khan, when the latter decided to revisit his father's production Agneepath. The Amitabh Bachchan film is a cult classic and Johar's reasons to remake it were personal. Yet, instead of directing it himself, he chose Malhotra to helm it. In an interview Johar revealed that he chose the newbie because he felt the film needed the director to have a certain degree of anger, which Malhotra did. Johar's faith was not misplaced and the Hrithik Roshan-Priyanka Chopra-Sanjay Dutt-starrer became the biggest hit of the first half of 2012.
Alia Bhatt, Varun Dhawan, Siddharth Malhotra, Kayoze Irani – Student Of The Year
SOTY has been creating a lot of buzz for various reasons – it is KJo's first directorial venture that does not star Shahrukh Khan; it is his first film after My Name Is Khan released two years ago; but more importantly, it is the first time KJo is directing newcomers. And not one or two, but four of them! Three are from filmi families – Alia is the daughter of Mahesh Bhatt, Varun is the son of David Dhawan and Kayoze is the son of Boman Irani – while Siddharth is a former model (and not the director of We Are Family). Whether the film becomes a hit or not, they'll definitely get noticed, thanks to KJo.