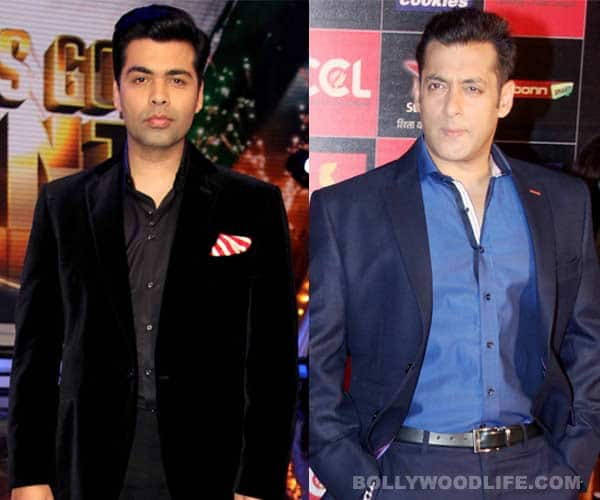 The host Koffee with Karan 4 was stumped by the Jai Ho star who debuted on his chat show this season
Karan Johar thinks Salman Khan is very funny as he kept parking humour with a straight face. Karan who is currently into the fourth season of the celebrity talk show, whose very first guest this time was his best friend Shahrukh Khan'sarch rival Salman.During the chat, Salman made some stunning revelations including he is a virgin. Karan said in an interview, "I have gone world over and there are people who genuinely came and asked me is he really a virgin. He was being funny when he said I am saving myself for the wedding night. Salman has a straight face sense of humour. I can't believe there are people who believed it. That is what is scary as you can say anything and people might take you seriously."
Ask him if he ever was at loss of words while talking to Salman, the host said, "Sometimes you get stumped with Salman.. Even I got stumped one or two times like what should I do now, sometimes because of seniority you tend to… with younger generation you can get away saying anything."
Karan has known Salman since long time and he was part of his debut directorial film Kuch Kuch Hota Hai as well.
"Also, I have known Aamir for a long time, I have known Kiran very closely. I have very good relations with them, I have a solid bond with them. I have strong equations with all the movie actors. In case of Akshay Kumar I am closer to his wife Tina.. she is my childhood friend.
"I know Ajay because Kajol is an old friend of mine. So, I have my own connections with these movie stars and I always will," he added.
The other guests who have appeared on the show so far include Kareena Kapoor Khan with cousin Ranbir Kapoor, Aamir with wife Kiran Rao, Ranveer Singh and Arjun Kapoor, Deepika Padukone and Priyanka Chopra.