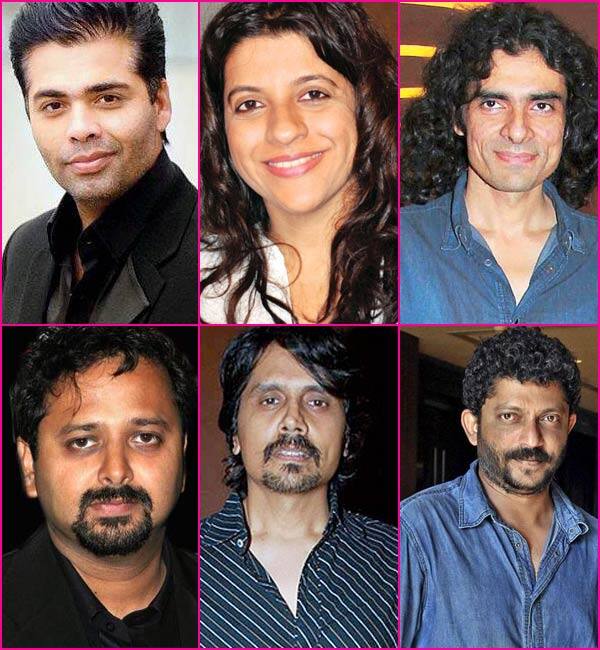 Leaving behind the trappings of big actors, mega budget and blockbusters, these young filmmakers dared to make smaller films
Big stars, big budget and a blockbuster are on every director's wishlist. And with every success the budgets inflate and so do the expectations from the movie. And while some directors can't do without the grandeur, others go back to making a movie that may not become the next money spinner, but gives them creative satisfaction. Here are some filmmakers who after mounting their movies on huge canvases, went back to movie that were a reflection of their own thoughts and emotions.
Karan Johar: Don't judge a book by its cover
Karan Johar, who is among the most popular and powerful filmmakers in the industry today, went on to do a complete U-turn with his short movie that was a part of the filmBombay Talkies. The movie which saw four director – Karan, Zoya Akhtar, Dibakar Bannerjee and Anurag Kashyap – make films to mark the centenary of the Hindi film industry. Instead of sticking to his successful formula of making feel-good films, the actor chose to make a movie Ajeeb Dastaan Hai Yeh that focused on homosexuality and the way in which people deal with it. When the promos of the movie were released, there were sniggers about how the director was a misfit among the four. However, Karan's movie was not only loved by the audience, but even fellow director Dibakar termed it his favourite film among the ones they had made. Rani Mukerji, Randeep Hooda and Saqib Saleem did complete justice to their roles, while Karan proved that there's much more to him than he is given credit for.
Imtiaz Ali: The maverick
In his first film Socha Na Tha, Imtiaz Ali worked with Abhay Deol and Ayesha Takia. It wasn't a success but got huge critical acclaim. For his next, Jab We Met, he got two superstars — Shahid Kapoor and Kareena Kapoor. It was a huge hit. He then made Rockstar with Ranbir Kapoor, which got huge appreciation and was loved by everyone unanimously. Every top actor in the industry was dying to work with him. But surprising everyone, Ali chose to sign Randeep Hooda (talented but not a star) and one-film old Alia Bhatt for his next. Had the maverick director pushed the envelope a bit too much, everyone wondered. What was supposed to be a stop-gap film before Imtiaz made his next movie with Ranbir and Deepika Padukone, went on to be probably his best work so far. Obviously, this director doesn't need superstars or big budget to tell his story.
Zoya Akhtar: Minus star power
Zoya Akhtar's first movie – Luck By Chance – was peppered with many star guest appearances including Hrithik Roshan, Kareena Kapoor and even Karan Johar. Produced by their home banner, the main cast included her brother Farhan Akhtar (fresh from the success of Rock On), Konkona Sensharma, Rishi Kapoor, Dimple Kapadia and Juhi Chawla. And if that sounds like a starry list, her next film – Zindagi Na Milegi Dobara – starred Hrithik, Farhan, Abhay Deol and Katrina Kaif. And just when one though that Zoya's next would be another starry affair, she changed gear and decided to make a sensitive story –Sheila Ki Jawaani – about a little boy's love for Katrina Kaif and Bollywood when she joined the team of Bombay Talkies. And though Kat made a fleeting appearance in the movie, it went on to prove that Zoya doesn't really depend on stars to make her movies.
Nagesh Kukunoor: All about films
He began his career with Hyderabad Blues. Nagesh Kukunoor never needed big stars to make a mark in Bollywood. But Bollywood did notice the talented director. He went on to make 8×10 Tasveer with Akshay Kumar, Aashayein with John Abhraham and Teen Deewarein with Juhi Chawla. However, the movies didn't do well at the box office. Instead of spending his time finding another big-budget movie to make, the director made Mod with Rannvijay Singha and Ayesha Takia. His last movie Lakshmi starring singer Monali Thakur showcased the story of a girl who is caught in a human trafficking racket. Though the movie was not made or released on a huge scale, it won a lot of critical acclaim. He is currently working on a story of an eight-year-old blind boy in Rajasthan.
Nikhil Advani: Back to basics
Nikhil's debut movie as a director was the mammoth hit Kal Ho Naa Ho. Made under Karan Johar's Dhama production, with whom he worked as an assistant director, the movie was probably everything a debutant director dreams of. It had big budget, fantastic music, beautiful locations and Shah Rukh Khan! It went on to become among the biggest blockbusters of the year. However, after the movie Nikhil had a fallout with mentor Karan and went on to direct his next movie Salaam-e-Ishq. Heavily-inspired from Love Actually, the movie had a whole bunch of big stars. But this one didn't work as much at the BO. Just when everyone expected Nikhil to come up with another crowd-pleasar for his next movie, the director chose to make a gritty thriller. D-Day was an absolute contrast to what Nikhil had made earlier. The star cast included Arjun Rampal, Rishi Kapoor and Shruti Hassan. The budget too was nowhere near his earlier films, but he chose to go ahead with the project. And it proved to be a risk worth taking, when the critics as well as the junta gave his movie a thumbs up.
Nishikant Kamat: Regional connect
Nishikant Kamat won a lot of acclaim for his Marathi movie Dombivali Fast (2005), he then made the same movie in Tamil with R Madhavan. Bollywood was the next stop. His movie Mumbai Meri Jaan was like by the audience and the critics. His major break came in the form of Force starring John Abraham. The movie went on to become a major hit and there were talks about a sequel to the movie. However, Nishikant had other plans. The actor decided to go back to making a Marathi film. The movie titled Lai Bhaari is Riteish Deshmukh's acting debut in Marathi films. In an interview the director had said, "The 'need' to make a Marathi film doesn't come from any commercial consideration. It doesn't matter how successful I am as a filmmaker. I'd make a Marathi film whenever I need to reclaim my roots. It's been eight years since I did a Marathi film." A movie with John titled Rocky Handsome was on the cards, but because the actor was busy with another project Nishikant decided to make another movie with Irrfan Khan. The Irrfan film titled Janpath is in the realistic space that Nishikant attempted in Dombivali Fast andMumbai Meri Jaan. The movie is real, gritty and song-less and has been shot within a year.