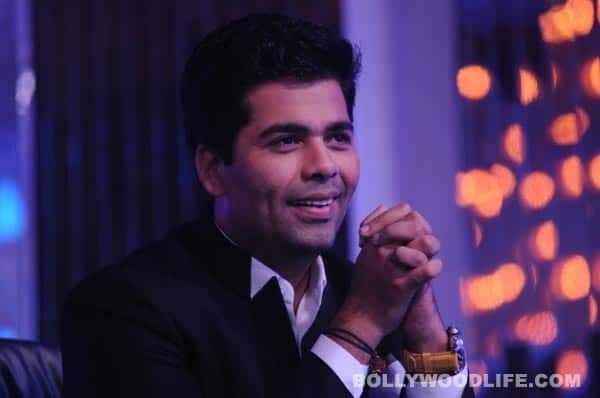 The filmmaker talks about the connection Indians have with TV and how he would never get into producing soap operas
Thanks to his mother Hiroo, Karan Johar is aware of what's happening in Uttaran or Balika Vadhu, but the Dharma Productions head honcho, who excels at fiction and family cinema, has his reservations about entering the television industry. He says he doesn't understand a medium that entertains people by projecting unhappy lives. Johar is judging Jhalak Dikhhla Jaa 5 with dancing diva Madhuri Dixit and choreographer Remo D'Souza, but says that he would never want people he knew to scrutinise his work. Excerpts from an interview:
What brought you to Jhalak Dikhhla Jaa 5 and what would you look at while judging it?
I used to look at these reality shows that are about judging and used to think how difficult it might really be. Jhalak… is such a successful franchise, so I thought if I would have to be in this zone, this would be the perfect place. The icing on the cake is that my mother watches it very diligently and more than any of my cinematic achievements, I think she is most proud that I am judging Jhalak…, which is vastly amusing to me. I can't be intricate about dance steps because that's not my strength. I'm going to judge the general energy level, look, costume and effort made in the package.
How good a dancer are you?
I'm a Punjabi. Dance is in my DNA. We are born doing Balle balle. Every Punjabi can dance. I am a good wedding dancer. I've no idea about the difference between Kathak and Bharatnatyam.
How would it be to judge popular stars like Sanath Jayasuriya, Talat Aziz and Pratyusha Banerjee in the show?
It's always very awkward to judge people who have already achieved public focus, love and attention, and here we are giving them points. I don't think I'd like to be judged by my contemporaries about my film on a scale of 10. Imagine if someone I know had to say: 'Your movie is three out of 10 or eight out of 10'. I would be like, 'Shut up, go to hell'. So I guess, I will project my comments with honesty, but coat it with some kind of restraint. Then you've also got the responsibility of making it entertaining. So if you don't say it as it is, the viewer at home is going to feel you're too nice and all that. So one can't sugar coat everything. It's important to show honesty.
How aware are you of TV content?
I know it because when I have dinner with my mother, I watch them all. I know exactly what's happening on Pavitra Rishta. I know that Bade Acche Lagte Hain is going to take a leap, and I know the trauma going on in Balika Vadhu, the trauma that went through Uttaran, and I know all the problems that go on in these shows because I spend the maximum time with my mother between 8:30pm and 10pm, which is when she watches all this.
Would you ever get into TV production?
It's not a world I know. I would never get into it. I don't understand how so many unhappy lives are projected on prime time and everyone loves it. And my mother is an exceptionally well-spoken, articulate, well-educated lady and is completely mesmerised by them. I can't communicate with her during 8pm to 11pm.
Does TV content confuse you about the Indian audience?
It doesn't confuse me. It just gives me a window into their heads. We are all voyeuristic by nature. We like trauma in other people's lives. We like seeing people suffer, and then think about how great our lives are! That's the emotion that translates on to television – because everyone feels 'Oh my god, look at the trauma in that household. My household is so much better. My daughter-in-law is so much better or my mother-in-law is better than that witch! So we are positive voyeurists where we feed on other people's sad lives. So I think my mother is probably thinking that she has a great life when she compares it to all the television characters. That's why she enjoys it so much.