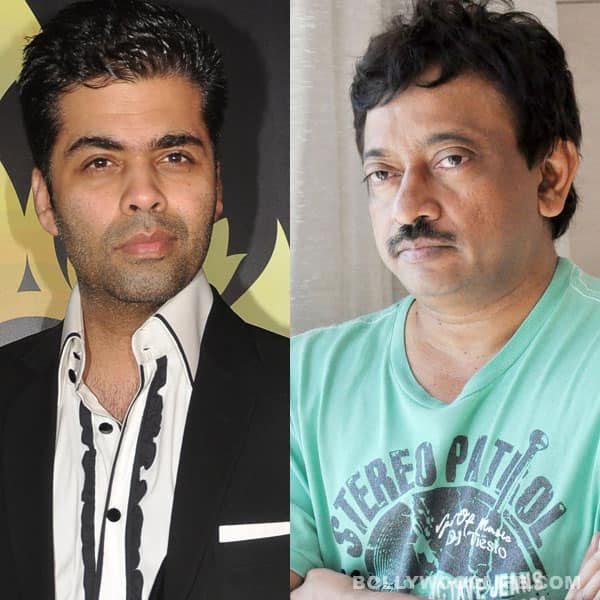 From making nasty comments on air to the twitter war, this duo is ready to put the warring Khans – Shahrukh & Salman to shame
Karan Johar and Ram Gopal Varma certainly know how to attack with words. And if some believe it's the Satya director who always starts this fight, let us tell you Karan isn't far behind. This love-hate relationship is still on, in a recent interview Karan Johar had some not so kind words for Ramu. Karan went on to call RGV crazy and even made jibes at his films. Karan said, "Ram Gopal Verma mere zindagi ka sabse bada entertainment hai. Kyunki woh basically paagal insaan hai, toh woh mere peeche pad jaatey hai. Mujhe lagta hai unko 3-4 baje dohre padtey hai. In fact lagta hai ki jiss tarah Shahrukh Khan Darr mein thay he's obsessively in love with me, woh yeh jaantey nahi ki woh mujhse bahut prem kartey hai. Bahut achche filmmaker hua kartey thay, ek Satya aur bana lo yaar, kya kartey rehte ho?" Last time around this war was on twitter with Ramu making pass at KJo's recent hit film Student of the Year, but this time KJo didn't wait for any provocation.
We certainly are waiting to hear Ramu's comment on Karan's statement. However we can't help but smell something fishy, everything seemed absolutely natural until Karan mentioned making another Satya, the world knows RGV is back making Satya sequel and the filmmaker will not be promoting his film in the regular way with events and interviews. So, is this then just a coincidence or by design? What do you think BollywoodLifers, is this a new strategy to promote Satya 2 or just another fight?