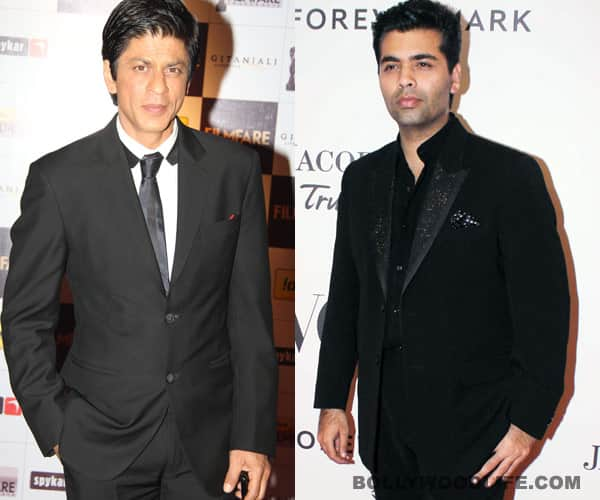 The Student Of The Year director made a shocking revelation, and quickly added that SRK is like his big brother – but definitely not his best friend. Who then is KJo's best-est buddy? We tried to find out!
Karan Johar was in his element last night. The ever-so-eloquent KJo looked dapper in a black suit. Accompanied by the young trio of his newest movie Student Of The Year – Siddharth Malhotra, Alia Bhatt and Varun Dhawan – a visibly excited KJo was talking about his 'young' film.
Karan stated that SOTY is about friendship, heartbreak and love. That's when a curious journo asked the 40-year-old filmmaker who is his best buddy. And just when all ears were anticipating hearing that one obvious name in response – Shahrukh Khan – KJo surprised everyone by stating that King Khan was not his best friend. "There are old friends who have gone beyond the 'friendship' tag. They are family now. My childhood friend Apoorva Mehta, who is the CEO of my company, is my best friend. He's been with me for the past 30 years . We have been together from our schooldays, college days and even work together. He is my best friend," said Karan.
Uh, oh! And we thought Shahrukh Khan, who has featured in almost every film KJo has made so far (barring SOTY...yet), would definitely qualify as his best friend. "Nahi, Shahrukh toh mere buddy nahi hain, balki mere bade bhai hain. No, Shahrukh is not my buddy. In fact, he is like my big brother. I never called him my buddy. Even today when Shahrukh enters a room, I stand up to give him respect. So SRK is not my best friend but Apoorva, who heads my company, is," explained Karan.
Now that answer surprised us and we couldn't help thinking about what stopped Shahrukh Khan, the big brother of KJo, from being his best buddy too. We will definitely ask Shahrukh this question when we bump into him next time!