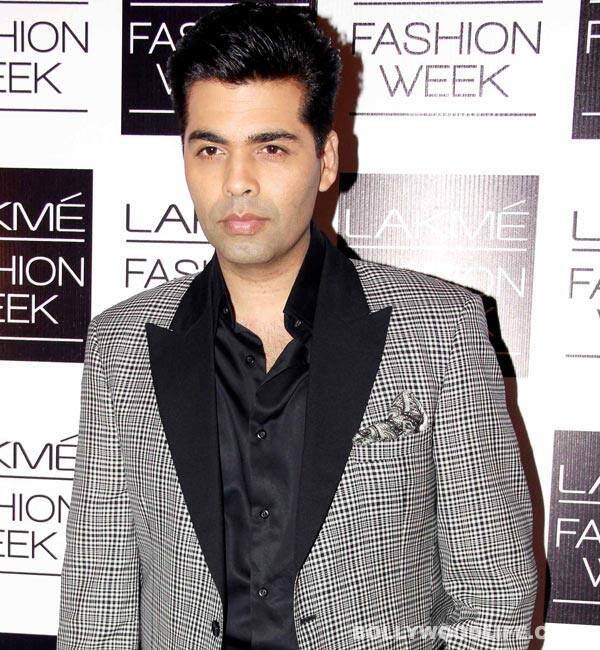 We hope to God no! We like Mr J, we are even willing to believe that the director-producer-host can act. But naach-gaana should never ever be on his to-do list….
We have all seen Karan Johar in his oh-so-many avatars, and we like most of them. As a director, he rules, especially after his short film in Bombay Talkies. As a producer, he rocks, with films like Kal Ho Naa Ho and Yeh Jawaani Hai Deewani to his credit. And as an actor…well, he may not be an Aamir Khan or even a Shahrukh Khan, but he works hard, be it in his bit role in Kuch Kuch Hota Hai or his full fledged character of a dark-shaded businessman in the still being made Anurag Kashyap-Ranbir Kapoor-Anushka Sharma film Bombay Velvet. And from what we hear, KJo has done a fabulous job as the baddie in this one. Of course, we have seen him put on various masks on his own chat show Koffee with Karan, in interviews and when he is doing his judging thing on Jhalak Dikhhla Jaa, and we think he is absolutely spot on.
But while we are huge fans of the man and are willing to take anything he gives us with a certain indulgent attitude, what we don't want to see is Karan Johar as a dancer. His friends have always teased him about his performance, even at the kiddy parties they all went to when they were younger, and he himself admits that he is not the best on the dance floor. We see him doing his favourite step – you have to see it to believe it, descriptions cannot cover all the nuances of his grace, his elegance, his charm, his adaa, his sheer talent….coff coff – whenever he is asked to dance and often choose to take a snack break right at that moment. And when we see the Broadway style routine he does to open KWK, we tend to switch channels for those few seconds. So when we heard that he was doing a minor role in his new production with Parineeti Chopra and Sidharth Malhotra, Hasee to Phasee, directed by Vinil Mathew, we had to close our eyes and say a collective prayer. Please God, don't make us watch a sequence of Karan Johar doing a little song and dance!
Is he going to listen to us? We sure do hope so!