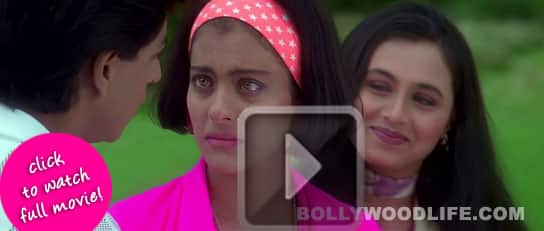 Trying to imagine how Koochie Koochie Hota Hai, the 'woof'ful version of Kuch Kuch Hota Hai would look like? Here's a hint
Remember Kuch Kuch Hota Hai – a movie that changed the friendship status of best friends to lovers, 13 years back? If you are one of those who actually needs to refresh their memory about the finer details of the hip movie, you can watch it on YouTube Boxoffice. Well, it seems Karan Johar wasn't very happy adding mush only to the lives of adults. So, he decided to add it to the lives of kids too! He produced Koochie Koochie Hota Hai – the animated version of the famous Shahrukh Khan-Kajol-Rani Mukherjee starrer. In his blog, KJo reveals that the core love story is between three dogs – one male and two females, just like the original movie. The supporting cast has roosters, bears, pigs, cats, and many others who share a barn. Those who have reportedly agreed to voice these animated characters are Uday Chopra, Riteish Deshmukh, Sanjay Dutt and Simi Garewal. This computer-animated movie directed by Tarun Mansukhani and Vishal Sonawane was set to realease in 2011 but got stalled for various reasons.  A li'l birdie told us that Karan is hoping to release it in 2012. We are not surprised he is taking this long to release Koochie Koochie… Anyone will be wary after seeing the poor box office fate of another animated love-story of doggies – Roadside Romeo. We won't blame you if  you actually ask 'Romeo who?' Hmm… doesn't that sound familiar, Saifeena?
Till Koochie Koochie Hota Hai hits the theatres, why don't you click here and watch the complete movie Kuch Kuch Hota Hai?