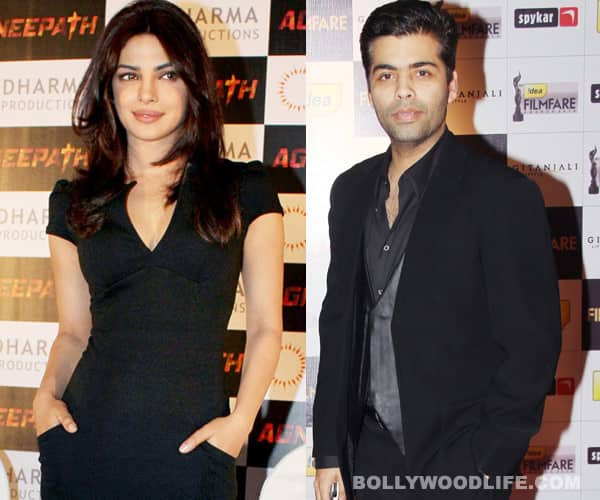 The director-producer celebrates turning 40 with a big bang tonight and insists that the media doesn't know everything about it. So he told us….
Karan Johar may have turned 40 today, but his list of guests for tonight's big birthday bash far outnumbers that two-digit milestone. And one of the will-he-won't-he people that is likely to be there, dressed to the nines after trying on more outfits than we can hope to own, we bet, is Priyanka Chopra. Now while all of us have been speculating wildly on her relationship with KJo and whether she will be invited or not – a preliminary report said that he was miffed with her and so had left her out – here is what the director-producer himself has to say on the matter. "First of all, who said Priyanka Chopra wasn't invited? I never commented. She has always been on this. I have had a very warm and wonderful professional equation with Priyanka."
We had our doubts about PC and KJo's do, since the hulla was so strong about the pretty lady being in the man's bad books after her rumoured 'thing' with Don co-star Shahrukh Khan. Don't forget, SRK's wife Gauri Khan and KJo are buddy-buddy and what bothers the Missus K will bother the best friend, no? Everyone else and their gossip-sisters thought so too, and all of us bonded over chai and low-cal samosas as we tch-tched about the coveted invite and who would be in and who, out. And then came the goss that PC was in, even though she got the card "quite late", Karan admitted, we are told. Is this all about forgive and forget, or was it a story cooked up by the rumour-press, as so many in B-town are?
Well, hell, the battle was for real, in a way, but neither side will say so for sure. Karan has only accepted in a kinda sideways manner that he did take a swipe at Priyanka, with "When you turn 40, the first sign of hitting that age bracket is gaining maturity and ironing out issues in your life. I have realised that it's the only way to live life." About the PC-Gauri equation, he does not comment, but he insists that he has called all his friends – except Ram Gopal Verma, whom Karan does not know personally and who has never been a friend or professional associate, Johar says – "with a lot of love and respect." As for the party, being designed by close friend Manish Malhotra as a birthday surprise, "It will be a room full of love," Karan says.
And we would love to get a sneak peak of all that love, you know!