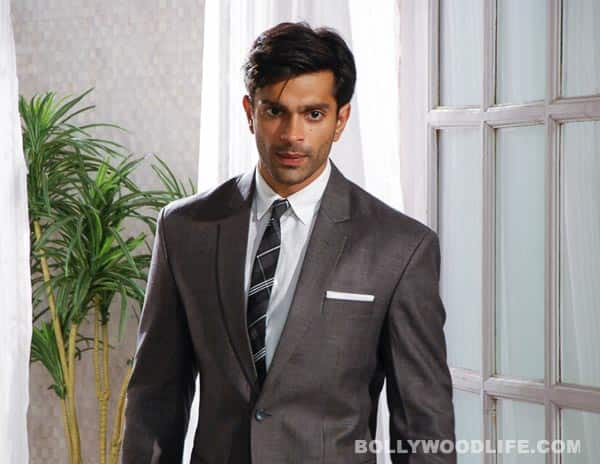 He's a total heartthrob and there's no denying that fact. Girls swoon over him and men envy him, whether he is being his real self as Karan Singh Grover or his screen identity of Asad Ahmed Khan
Karan Singh Grover talks about still being connected with Rishab Sinha, missing his character Dr Armaan, his chemistry with Surbhi Jyoti, his jealous streak and his newly married life with Jennifer Winget.
Tell me about your equation with Surbhi Jyoti aka Zoya Farooqui…
Surbhi is a brilliant actor actually and a lot of fun to work with. She understands every layer of the scene, bringing us on the same page. In spite of being so young she understands that every scene and episode has a different layer. She is very easy to work with and to be around.
How do you feel about your onscreen brothers Rishab Sinha and Vikrant Massey?
Rishab was playing Ayaan earlier, but not any more. However, we still share a very close relationship. He has always been like a younger brother to me and will continue to be so. Vikrant has come into the show now as Ayaan and is doing a brilliant job. He has taken Ayaan to another level. Also, the equation between Asad and Ayaan has changed a little, which is good for the show.
Have you experienced any bad days on Qubool Hai?
I have experienced several bad days on Qubool Hai, but it has nothing to do with any specific person or the show per se. There are times when I feel the episode or the scene doesn't have enough in it. There could have been more we could have done on a script level, or the way it's been shot or even the way I performed. However, I try to not let these things bother me and remember that it's an episode we make every day. It obviously cannot be 140 percent all the time. If it doesn't reach my expectations, then it's a bad day for me.
Was it hard to work with a totally new cast?
Thankfully both the cast and crew are relatively familiar. Everyone I have worked with closely on Qubool Hai is someone I have already worked with before. I have worked earlier with Shalini Kapoor – my mother, Vaquar Shaikh – my father and the big baddie Tej Sapru as well. Although I have never worked with the DP Hrishikesh Gandhi, it seems like I have known him for a lifetime! I am really lucky I have a good team to work with.
Dr Armaan or Asad Khan – which character do you prefer?
Asad Ahmed Khan is a change from what I've done before and it is challenging for me. As Dr Armaan nobody had to tell me what to do – of course we had help, but the acting was more natural. It was easy for me. So as a role Asad is more challenging, but as a character Dr Armaan was a lot of fun. I miss him actually.
How did fans react to you playing the serious Asad? Do they miss Dr Armaan?
Initially it was a little difficult, 'coz people were not used to seeing me so serious; I was not used to being serious either. Initially I got a little flak for it, but people have accepted Asad now. But if the audience has to choose, they will put me in a doctor's coat right now!
Has playing Asad changed you personally?
Not really! I don't think any one character can change an actor's life completely. I am a very complex person as it is. I have too many people living in my head already, so one more doesn't really change anything.
Do you keep a check on the TRPs of the show?
Yes, we eagerly wait for every Thursday. It used to be Wednesdays a long time ago, but then I was doing Dill Mill Gayye and the ratings were not very encouraging. The highest we ever touched was 1.9 and that was in the 8th episode. I still remember, 'coz we couldn't stop celebrating! I am not the kind of person who takes numbers very seriously. But once you grow up and become a little more practical in life, you realise that everything is about numbers. And now that I am doing a show where the numbers are good and they matter, we eagerly wait to find out our ratings every Thursday,
One thing you like and one you don't like about Qubool Hai…
There is nothing I don't like about the show. I like everything about it.
Is there anything you'd like to change about television in general?
There's a lot I'd like to change. A lot of things are done to death . We've shot them in every show, everyone has done it, but we hide behind the illusion that the audience is used to it because that's all they get to see. If we try to change it, maybe they'll get used to something better. But who will take that call?
Shilpa Anand, Sukirti Kandpal or Surbhi Jyoti – who do you think you share a better chemistry with?
Surbhi Jyoti, for sure.
Tell me about your fitness regime…
My fitness regime at the moment is very limited, because I have been working round the clock. But I do make time every day or at least five days a week to do 45 minutes of cardio and functional training.
What shows do you watch on television?
I am extremely conceited that way. I do not watch any other shows. I saw a little bit of Madhubala, 'coz Drashti Dhami is a close friend of mine. I watch Sarawatichandra when there are no romantic scenes and I watch Qubool Hai every day.
Do Jennifer's romantic scenes with Gautam Rode bother you?
Jennifer's romantic scenes with anyone but me will always bother me.
How has life changed post marriage?
I think I am a little more sorted. I am in control of myself, which is a good thing. I understand that there are boundaries and limitations. I am a more family person now…since I'm married.
What is the one thing that bugs you about Jennifer and the one thing that you adore most in her?
I'll tell you what bugs me most – I can't say anything at all! Besides that, there's not really much bad anyway. She is the only person I've ever met who understands me completely. She understands my every mood and emotion even before it begins. She also knows when to say yes and when to say no. In short, Jenny is a good master.
So who's in control at home?
Any married man who is wise enough and has his ego in control knows that the woman is always in control. There's no denying that and as soon as you accept it, you can move ahead.