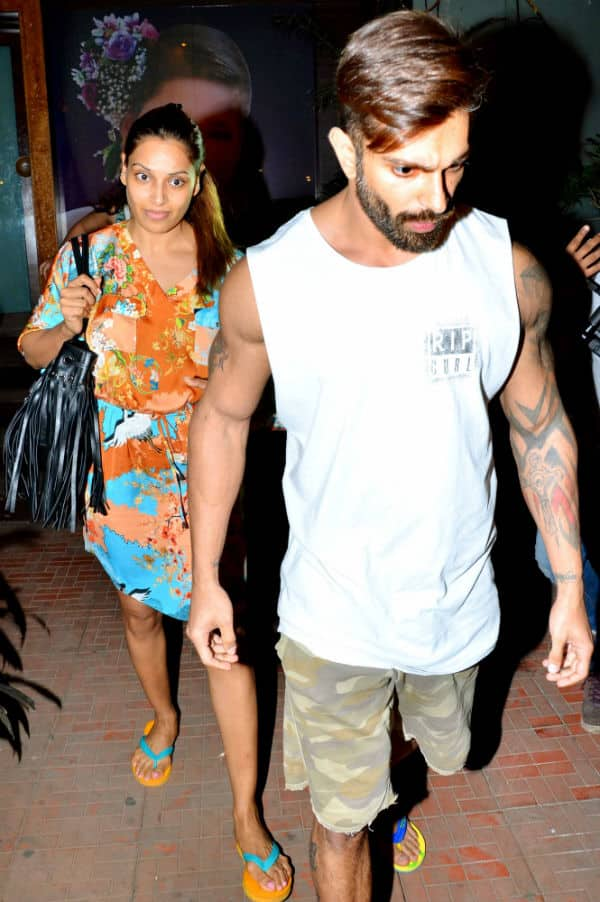 Now we knew for a fact that marriage comes with its share of pros and cons but little did we expect Karan Singh Grover's marriage to Bipasha Basu will cost him his friends. I mean, not that he has lost them all for friends are meant to stand by you no matter what goes wrong. But according to this shocking report in Times Of India, Karan's friends are upset that he is not being himself, ever since he has married Bipasha Basu. Turns out Bipasha is extremely dominating and insists on accompanying her hubby for every outing, even when he's partying with his band of boys. Probably you can say Bipasha is not giving KSG any space or 'me' time like they say. But what's more upsetting is the fact that despite knowing how Bipasha is taking charge of his life, Karan isn't stopping her from doing so. In stead, Karan is rather liking the fact that his wifey is actually so possessive in leading her way. Ahan! Well, in that case Bipasha and Karan seem to be totally smitten by each other and want nothing else to intervene their space. But will KSG lose out on friends because of his love life? We hope not!  Also read: Karan Singh Grover and Bipasha Basu pose for a mag cover and we CAN'T get over it
In fact, if you notice, Karan and Bipasha share many friends in common for they have been together since a couple of years before they got married earlier this year. Don't we remember all those good times they have shared with their bffs Rocky and Deanne Pandey? Or say for that matter even their exotic trips? But guess Karan's friends love his company more as a bachelor than as a loyal hubby.
Bipasha Basu tries hands on cooking Prasad for the first time

Bipasha arranged a Puja at her house yesterday with hubby Karan Singh where she also tried hands on cooking.

Image credit: Instagram

Bipasha Basu posing before the Puja

Bipasha and Karan had arranged a Puja at their place on the occasion of Raksha Bandhan.

Image credit: Instagram

Bipasha Basu and Karan Singh Grover clicked during Puja ceremony

Bipasha and Karan looked really happy in the clicks from the Puja ceremony which was held at their residence.

Image credit: Instagram

Karan Singh Grover clicking selfie with wife Bipasha Basu during Puja ceremony

While Bipasha gave credit to her mother for all the arrangements of the Puja ceremony.

Image credit: Instagram

Bipasha Basu and Karan Singh Grover posing for a selfie together at the Puja

Bipasha was decked up in traditional attire while Karan wore blue denims and checked shirt for the ceremony.

Image credit: Instagram

Bipasha Basu and Karan Singh Grover pose for another selfie after the Puja

Along with pictures from the Puja ceremony, Bips also shared some clicks from her Rakhi celebrations.

Image credit: Instagram

Bipasha Basu's selfie with mother Mamta Basu and sister Vijeyata Basu

Bipasha captioned this pic as "The gorgeous mother and the daughters".

Image credit: Instagram
Shaadi ke side effects eh? We're sure Karan will resolve this little difference between Bipasha and his friends. What do you think? Drop your thoughts in the comments below and stay tuned for more.