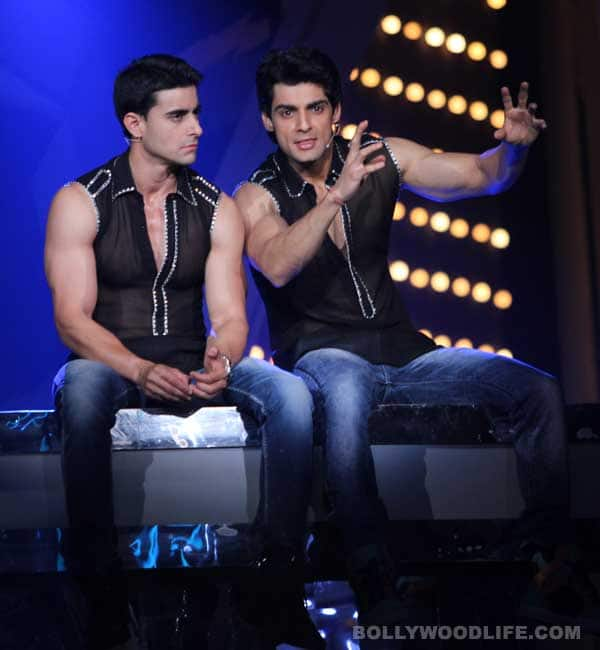 It's crazy when they come together onscreen. Their witty one-liners and random jokes leave you giggling. And their chiselled bodies and great looks…. oh-so-hot!
Gautam Rode and Karan Wahi are hosts of the couples dance reality show Nach Baliye once again and are rocking the stage with their comic acts as bade and chote. The duo talk about fitness, their roles on the contest-show, and what makes them crazy.
How does it feel coming back to the show and working together again?
Karan Wahi: It feels great.
What is your equation with each other?
Karan: We don't have to meet every day to create an equation, but it's great. The gap hasn't changed anything. Just 'coz we are friends doesn't mean we have to meet every day. He has his own set of friends and I have mine, but whenever we meet we start off from wherever we left off.
Tell us one bad thing about each other….
Karan: Gautam is too hard working and I hate that about him. He is a perfectionist and I can't handle it. Moreover, it irritates me, 'coz then I have to put in that extra effort and I am the laziest person on this planet.
Gautam Rode: He answered the question on my behalf already.
What do you like about each other?
Karan: The answer would be the same. He is too hard working, so you want to be and behave like him. I want to understand how he does that, 'coz after shooting for 30 days continuously, if he still has the power to meet friends, to gym, watch his diet, work, enjoy and still manage to keep a cool head, it is simply awesome.
Gautam: He has become very comfortable with himself. Sometimes his bad habits work in his favour, like being lazy and forgetting his lines. He is a natural anchor, while I am more comfortable acting.
Who has the better body?
Karan: Gautam, any day. He has a better body because he is constant.
Gautam: Right now we both are fit. We have a different body structures. Right now the in thing is to have a lean body. We both are more or less the same in fitness.
Karan: I tend to relax in life and go haywire. There are certain things that he is very strict about, like his diet and his drinking habits.
Gautam: I don't drink!
Karan: Yaah, you drink green tea all the time. Plus, he is a pure vegetarian and I need butter chicken every third or fourth day.
Who has a bigger female fan following?
Gautam: I don't know. I really do not keep a check on that.
Karan: Ask the females.
Who is funnier?
 Guatam: Karan is definitely funnier than me, any day. Actually, he is mad.
Karan: I am a little mad.
What's your character like in Nach Baliye?
Karan: You will never see Gautam as a funny or free anchor on Nach Baliye. He is the calm, mellow and level headed guy, while I am the wild child.
Gautam: That's the card we are playing. I'll be the more mature one who will be handling people around and he will be driving people mad.
Are you happy that the producer of your show Saraswatichandra has changed?
Gautam: Why will I be happy or sad about it? It's not about me being happy, it's the channel. I am an actor – I come, do my part, get paid for it and leave. I am not supporting anyone.
Karan: Till the time his cheques are coming in, he is okay with whoever.
Did Karan Singh Grover ever express having an issue with your intimate scenes with Jennifer Winget on the sets?
Gautam: No, he has not told me anything and has never come to the sets of Saraswatichandra.
Karan: He has his show to do; if he comes on Saraswatichandra's set, who will do Qubool Hai?
Gautam: Ideally, you should ask Jennifer about this rather than me.