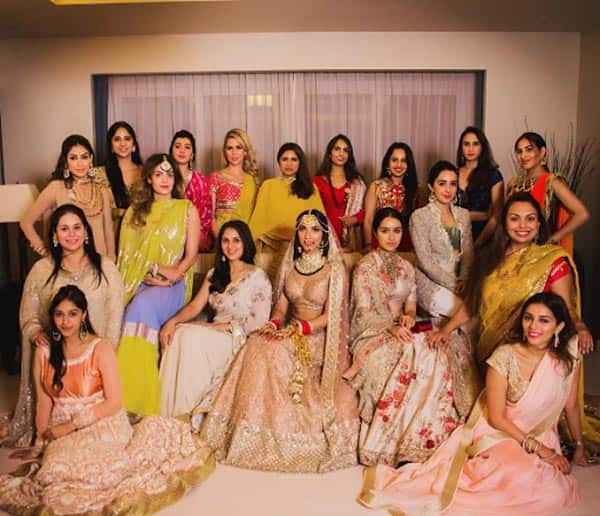 Karan Wahi's sister wedding in Dubai was one lavish affair.
The marriage took place in the luxury hotel, Park Hyatt and was attended by a selected number of guests. Eshanka Wahi got married to beau Herat Israni. The actor recently posted many pictures from his sister's marriage ceremony. We also found some lovely snaps from Eshanka's Insta account.  Karan is one helluva hottie but his sister too looked like a goddess. We just could not keep eyes off her. Dressed in a beige and gold lehenga with kundan jewellery, she looked fabulous. The look was reminiscent of that from Aishwarya Rai Bachchan in Jodha Akbar with that heavy necklace and Kajol's from Kuch Kuch Hota Hai.
Eshanka also posted picture with her bridesmaids and they all look as excited as Karan Wahi. But can you spot someone in the picture? Sharddha Kapoor who is best friends with Eshanka Wahi made sure that she was part of the destination wedding. The actress was there with her entire family along with aunts, Padmini and Tejaswi Kolhapure. The actress danced on Cham Cham from Baaghi for the wedding.
The 30-year-old actor termed his sister Eshanka and had the most overwhelming words for this "most beautiful bride." He also posed with Shraddha Kapoor.
Karan also posted pictures of Eshanka, his brother Sanchit and himself before the wedding ceremonies. The trio looked ON POINT and the brothers seemed very emotional for their sister. 
(Also read:All's not well between Shraddha Kapoor and Farhan Akhtar?)
Sharddha is very busy with her scedule of Rock On 2 but managed to be there for her bestie. She has a list of lined up movies. Karan, who evidently was enjoying on his sister's wedding, looked as handsome as ever in traditional attire. Karan was last seen as a lead in Kahani Hamari… Dil Dosti Deewanepan Ki on & TV.