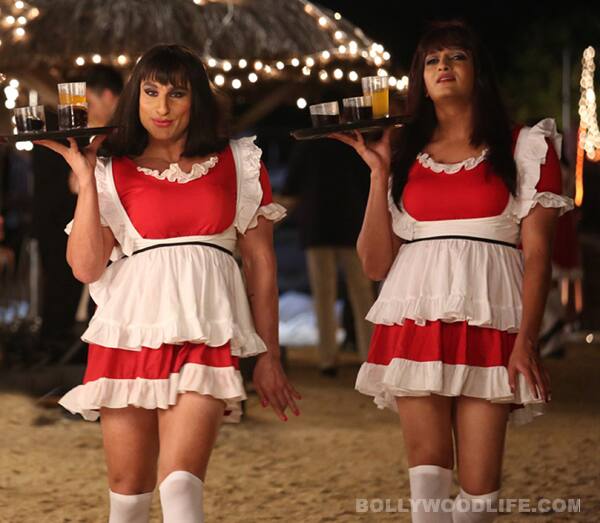 While Kareena thinks Saif has sexy legs, Genelia feels her hubby Riteish can seduce in the best possible way!
Here's a video that gives a sneak peek into the madness during the shoot of Sajid Khan's comic caper Humshakals starring Saif Ali Khan, Riteish Deshmukh and Ram Kapoor. In this video you will see Kareena Kapoor Khan and Genelia Deshmukh join their husbands in the madness. The two are also seen cheering for them as Saifu and Riteish don skirts, wear make-up and play the game of seduction!
Yes, watch the trio fluttering their fake eyelashes, flashing their waxed legs and even heaving their heavy bosoms to hilarious effects. Director Sajid Khan too unleashes his crazy streak and even makes the lead actors of his movie do some unbelievable stuff.
While Sajid enjoys putting Saif, Riteish and Ram through a grill, wifey Kareena and Genelia applaud their husbands' antics. Bebo even maintains that Saif has the sexiest legs of all, while Genelia opines that Riteish can seduce any man with his pouting, winking and suggestive gestures!
Watch the madness here at your own risk!