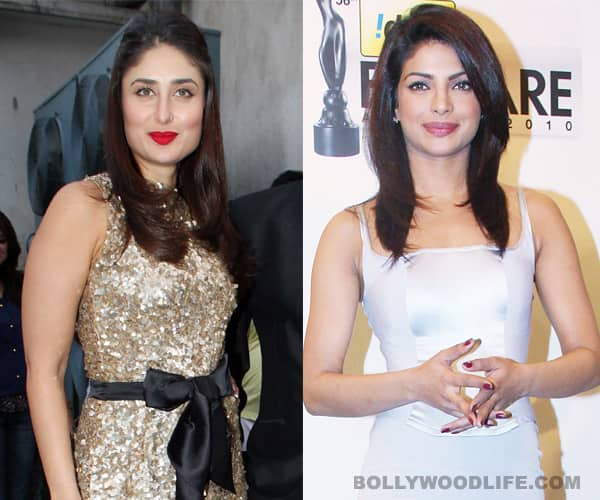 Madhur Bhandarkar's Heroine and Fashion protagonists Kareena Kapoor and Priyanka Chopra can't see eye to eye. Read their Tarot reading to find out if they will ever be friends, or better still, star in a film together!
There are many rivalries within the industry, but out of the recent ones, the rift between Kareena Kapoor and Priyanka Chopra has been talked about. But what do they really think of each other? Is there even a rivalry between them? Do they see each other's films? Will they ever reconcile their differences? There's lots to discover through the cards. Read on…
Priyanka Chopra is a fiery personality but prefers to appear Sun-like happy and diplomatic with issues relating to Kareena Kapoor. But this is all just a clever cover. Instead, with the Nine of Wands and Page of Swords it is quite apparent that Priyanka does prefer to avoid Kareena, because she is concerned of further confrontations and feels forced to be nice to her. Priyanka finds Kareena's personality to be Emperor-like dominating, whereas she does feel that she is equal in stature if not higher.
It's a similar story with Priyanka's perception of Kareena's work. Pee Cee may appear to be respectful of Bebo's films, but, like the Two of Pentacles is not too impressed with them. It's even probable that she does not find Kareena's work of high calibre.
On the other hand, there is Kareena who too wishes to be like the King of Swords – diplomatic. But this does not come naturally to her. She's more comfortable in expressing how she really feels. In fact, Kareena is up for a war of words since she finds Priyanka to be World-like dominating and overly proud. Kareena should refrain from confrontation, as it will be highly unnecessary – but, with the Five of Wands, this may be hard for her to do.
Kareena has immense respect for Priyanka's work, but with the Queen of Wands and the Seven of Swords, she does believe that Priyanka has been overly lucky in her career. The films she has worked in and the work produced has not just been achieved by being talented, but she finds Priyanka to have used the qualities in her personality to make it work for herself.
Despite all of these thoughts, the Four of Wands indicates that it's more likely Priyanka will reconcile in the coming times. What's even more interesting is the Ten of Cups that shows up from Kareena's end where we may even see them in a film together. This rivalry may just continue on screen too! Watch out.
Learn more about our Tarot reader Shruti Chopra
VOTE: Kareena Kapoor, Priyanka Chopra, Katrina Kaif: Who is the biggest heroine?