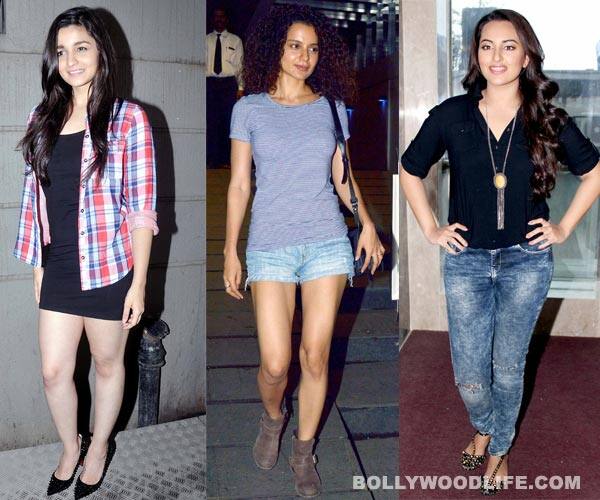 On the occasion of Dahi Handi, let's take a look at our glam divas who with a little alteration in their outfits could be a part of the human pyramid
While several young boys and girls have set off to celebrate the birth of Krishna by participating in several Dahi Handis, we have a list of celebs sporting outfits which could help them be a part of the celebration. Let's take a look!
Topping our list is Krrish 3 actor, Kangna Ranaut. Wearing teeny tiny shorts and a casual striped tee, this pahadi chick could make it to the top of the pyramid! Looking at her well-toned legs, we're sure she won't have trouble climbing the human pyramid. All she'll need is a little practice and well, that bush of her hair will certainly need to be tied-up! Biker chick Gul Panag could join Kangy's pyramid in her hot pants! But the dimpled beauty will have to give up the plunging neckline… And super sexy mom, Malaika Arora Khan in those green shots would look oh-so-lovely on top of the pyramid! But of course, her top is too classy for her to pass as a member of the Govinda gang, no? A long loose tee is what Malaika needs, to get to the top!
Alia Bhatt in an LBD teamed with a checkered shirt is looking so cute! Well, her dress will require a li'l cutting shutting. Either the dress can be made into a divider dress or she could just sport the checkered shirt with tiny shorts like Kangy, and Alia will be all set to get on the field! The young Bhatt certainly has the bubbly spirit in her to be a part of the Govinda. Even Kareena Kapoor and Shamita Shetty's strappy dresses could be cut into divider dresses. Those straps on the back will be very helpful for others to climb to the top of the human pyramid, no?
Moving on to our last contestant, Sonakshi Sinha! This Dabangg girl will surely be cheered the most if she were to participate in Dahi Handi, wanna bet? Her popularity and connect with the masses is fab! Sonakshi's acid wash jeans tattered in places will need to be cut down a little and then this beauty will be set to join the Govinda gang. Err, we know that she's popular but we doubt she can make it to the top of the pyramid considering that the tiniest and the lightest person makes it to the top!
While these are our choices for a glam Govinda gang, let us know who would you prefer out there BollywoodLifers.