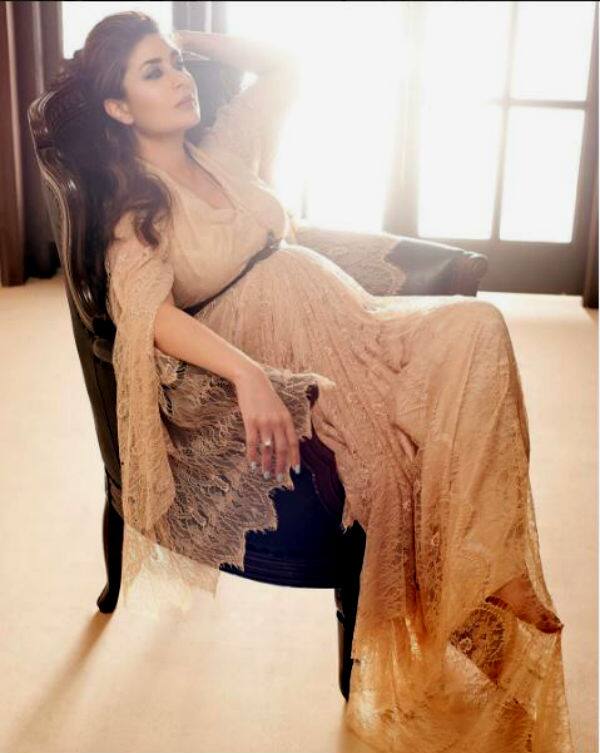 Pregnancy has probably got the best out of Kareena Kapoor Khan. I mean, not that she was any less prettier before but the fact how Kareena is breaking the internet by rocking her baby bump, one pic at a time is so damn inspiring. Aren't we totally digging on her style game? There was a time when people would hide their baby bumps or treat the whole maternity phase like as if it's a crime for a pregnant woman to work, or even step out of their house. But Kareena being an exception, is assuring to look as beautiful as ever even in her maternity wear, flaunting her curves and breaking all the stereotypes surrounding pregnancy. Also read: Kareena Kapoor Khan is a perfect blend of style and elegance on Grazia's cover – watch the making video
So it comes as no surprise that Bebo is extremely proud of owning her pregnancy like a boss. In fact, she credits this confidence to each one of ya'll as she spoke to Grazia magazine saying, "I believe there's a lot of respect and understanding between me and my family, the media, industry friends or even the audience, because I've kind of owned the pregnancy." So much sass in that very statement, no? Kareena has shot for a stunning maternity photoshoot with Grazia as she graces the magazine cover for the December issue.
While Kareena Kapoor Khan is due to deliver her baby on December 20. Father Randhir Kapoor too had recently confessed how he's totally loving the way how Kareena is dealing with her pregnancy as he had said, "Kareena has handled her pregnancy very well. We're all waiting to hold the little one in our arms. She's extremely healthy and the baby is doing fine."
Kareena Kapoor Khan says can't express how she feels about it

"This is such an internalised emotion that I can't put it in words. I can't express how I am feeling right now. Or what I'm going to feel. I think these are things that I have to experience myself before I talk about them. But, of course, the journey has been great."

Image credit: Facebook

When Kareena Kapoor Khan was brutally honest take on motherhood

"I am very excited. I am not nervous at all (smiles). This is something that every woman looks forward to in her life. It will be a life-altering experience for my family and friends."

Image credit: Facebook

Kareena Kapoor Khan and Saif Ali Khan's kids not gonna be honed by bodyguards!

"We don't have bodyguards and we don't believe in having them either" the Veere Di Wedding actress further added. She hopes that their family will continue the tradition. "I am not going to hire 10 bodyguards just because my child will belong to a star family"

Image credit: Facebook

When Kareena Kapoor Khan embraced pregnancy with arms wide open

"Wanting to become a mother was a natural course for me. I don't know why there's such a hue and cry about my pregnancy in the industry. It is the most natural phenomenon for all women."

Image credit: Facebook

Kareena Kapoor Khan on her kids fashion picks

"I think he (Manish Malhotra) should just stick to designing clothes for me for now," she said laughing it off. Quiz her about having a designer wardrobe for her baby and she quips, "I haven't even thought of that. I would prefer a designer wardrobe for me first before anyone."

Image credit: Facebook

When Kareena Kapoor Khan addressed the normalcy of pregnancy

"The most important thing is that pregnancy should not be looked upon as some sort of disease of any kind. It's the most beautiful phenomenon that can happen to a woman… I would continue to do as normal things as everybody else because that's what it is."

Image credit: Facebook

And Kareena Kapoor Khan convinced us about the normalcy of pregnancy

"It's most natural phenomenon and there is nothing wrong with it. In fact it's a joy,"

Image credit: Facebook

Kareena Kapoor Khan on Lakme Fashion Week's ramp, baby bump's debut walk

For me, it is quite an emotional moment as this was the first time we (she and her future child) took the ramp together. It was a moment to cherish,"

Image credit: Facebook

Kareena Kapoor Khan hopes her baby doesn't get this quality from daddy Saif

"He can be like Kumbhkaran. He can just sleep for 18 hours a day and not wake up," Kareena revealed about Saif's "disturbing" habit. About herself, she said that she worries about the minutest things. Bebo said that she wants a "chilled out" baby, like hubby Saif.

Image credit: Facebook

But Kareena Kapoor Khan also hopes her baby doesn't get this from herself!

I don't have any bad quality ya. But I think I'm a worrier. I hope my kid doesn't get this quality.

Image credit: Facebook
But all said and done, no one can beat hubby Saif Ali Khan's statement as Kareena had once recalled, ""I've been keeping myself so busy during this pregnancy that Saif always says 'You'll have this baby in Mehboob Studios!' My friends are constantly teasing me and telling me to calm down and do less. But knowing me, don't be surprised if I head straight from the hospital to a shoot. I think I'll definitely be fully back to work one month after my baby is born. "
On that note, watch this making video of Kareena's Grazia shoot and we'll be back with more updates right here.