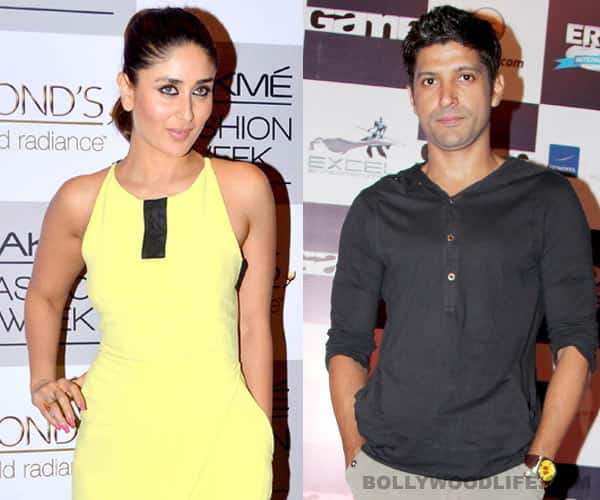 Rumours say that the two will star in a love story based on the Amrita Pritam-Sahir Ludhianvi romance, to be made by Ashi Dua of Bombay Talkies fame
Farhan Akhtar was last seen as Milkha Singh in Bhaag Milkha Bhaag, briefly romancing Sonam Kapoor. His next will have him playing the loving but exasperated husband of Vidya Balan, as they explore Shaadi Ke Side Effects.
Kareena Kapoor Khan did her thing in Satyagraha most recently, and will splash on to the big screen soon in Gori Tere Pyaar Mein with Imran Khan.
The two are supposed to come together in a new story concocted by the fertile mind of Zoya Akhtar, who last directed a segment in Bombay Talkies and produced by Ashi Dua. This one will reportedly be directed by Jasmeet Reen and will tell the story of poet Sahir Ludhianvi and writer Amrita Pritam. Whether it will actually materialise or not remains to be seen, but last we heard, Kareena was offered the film and is 'still in the process of reading it'.
You will remember that Sahir Ludhianvi was an Urdu poet who wrote lyrics like Aye meri zohra jabeen sung by Manna Dey in Waqt (1965) and Main pal do pal ka shaayar hoon from Kabhi Kabhi (1976), sung by Mukesh. He stayed a bachelor until his death, but did have two notably passionate love affairs – with writer Amrita Pritam and singer Sudha Malhotra. And a young Amrita, desperately in love with the poet, divorced her husband for him, even though he soon left her for another woman. She once wrote his name on a piece of paper hundreds of times even as she answered questions at a press conference. And in an astonishing demonstration of her love, she would smoke the cigarette butts that he stubbed out, saying that she hoped the air mixed with the smoke of the butts would travel to the other world and find Sahir!
This is the love story that Farhan and Kareena may relive on the big screen. Will they do it? Or will this be another project that Bebo refuses? We wait to find out…