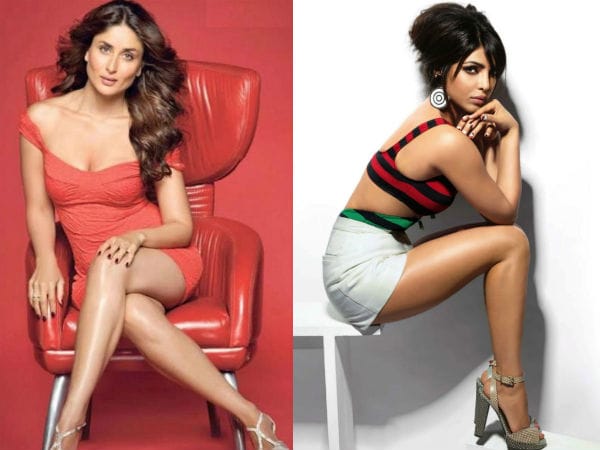 Reports suggest that the two beauties will come together for a UNICEF docu-drama. Read on to know more…
What Bollywood couldn't (since Aitraaz), the UNICEF has. It has ended at least one cold war that has raged for years between Kareena Kapoor Khan and Priyanka Chopra. Soon the two will come together for a docu-drama, presented by PC herself. Both work with UNICEF (Priyanka is National Ambassador promoting child rights and adolescence and Kareena is UNICEF India Celebrity Advocate supporting children's education in India).
A source spills the beans. "PC and Bebo have been bonding ever since reports surfaced that the two actresses ignored each other at an international awards event earlier this year. It was PC who reached out to Kareena asking her to feature in a documentary film on the girl child and women's education. Kareena who is right now advocating the right to secondary education for all children, especially girls and women, agreed immediately. And it's for a good cause so she's doing it for free. It's a surprise given their past history, but it proves that these actresses have not only mellowed but matured a lot and are willing to put aside their differences for a good cause. Right now, the modalities and dates are being worked out. A couple of more actresses may be approached as well."
Kareena confirms, "Priyanka recently did call me for something she's doing and asked me to be a part of it. I will do it, of course. But I don't want to talk about it right now."
She insists, "There can never be a problem with Priyanka. I really respect and like her a lot as a person and an actress. I am very fond of her. There can never be any issue with her. We are colleagues and actors and we respect each other. I know she respects me. I wouldn't want dig too much into this and say we are fighting. It's not mellowing down but evolving and the idea is to keep evolving. That's the fun of life and what I want to keep doing that."
Bebo has patched up with Deepika Padukone, too. Ask her about it and she protests again. "There was never a war for us to patch up! I meet Deepika regularly at our Bandra gym as we workout with the same trainer Yasmin Karachiwala. We are very normal and cordial. She's my husband's co-star and colleague. Why should there be a problem? These are all media-made issues. Media has created a problem with me and other actresses for the last 10 years. They have pitted me against everybody. I think that is great and I consider it a compliment."
Bebo-PC's past history
2006
Kareena and PC work in Don but after that, on an episode of Koffee With Karan, she asks host Karan Johar where Priyanka got her accent from. PC retaliates by saying the same place that Kareena's then-boyfriend (Saif Ali Khan) got it from.
2007
Kareena says she considers only Rani Mukerji, her contemporary, an actress. PC quips back that as Bebo being more mature and senior than her, is qualified to comment on her acting calibre.
2009
Kareena and Priyanka fight over their favourite make-up artist Pompy Hans. PC wants Pompy for her make-up in her film Anjaana Anjaani but before she can contact him, Kareena whisks him off to Sydney with her.
2012
On a news channel when asked about what she thinks about her rivals getting married this year, Priyanka shoots back and asks to specify which one (Kareena or Vidya Balan).
January 2014
On Season 4 of Koffee With Karan, when host Karan Johar asks Priyanka in the rapid fire round, which actor/actress would have a life size poster of themselves, Priyanka promptly replies, 'Kareena'!
April 2014
Reports allege that Kareena has ignored Priyanka Chopra at the IIFA Awards in Tampa Bay, Florida this year. When asked about it, Kareena asks the media to stop asking her such questions.