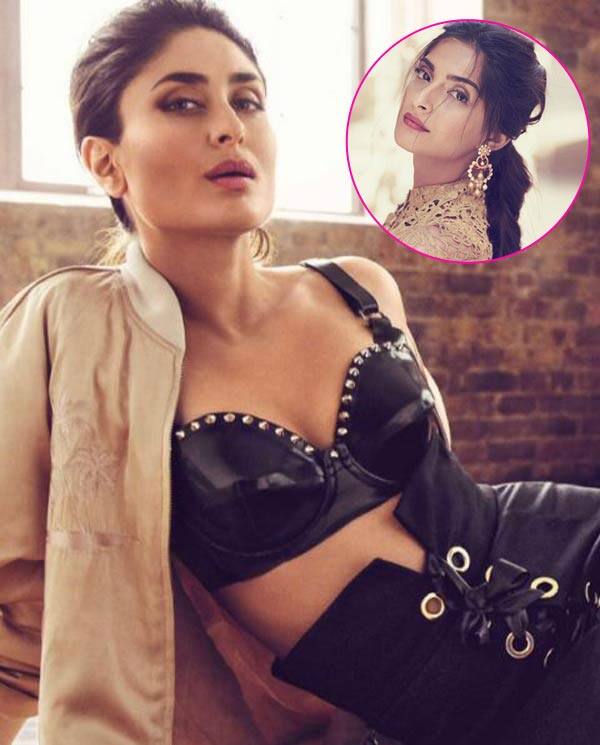 Woah! We finally know what has been keeping Veere Di Wedding's shooting stalled. No, it's not because of Kareena Kapoor Khan's pregnancy! Okay, maybe it's slightly got to do with her pregnancy but here's a new angle as to why the multi starrer has been put to hold. We all know that produced by Rhea Kapoor, Veere Di Wedding stars Sonam Kapoor, Kareena Kapoor Khan, Swara Bhaskar and Shikha Talsania. The announcement of the same was made in June, weeks before Bebo and Saif Ali Khan revealed the good news of them becoming parents. Since then, reports of Kareena starting the shoot for the film in October started flying about. In fact, Sonam even stated that her pregnancy was a blessing for the film (which made us wonder if she were to play a pregnant woman in the film). So yes, it got us all riled up. However, soon we found out that the film won't go on floors in October.
For quite a while now, different kind of reasons have been credited to this delay. The latest development on the same sheds light on the fact that it's because of Kareena that the shoot has been postponed to next year! Yes. In a recent interview with Femina magazine, Sonam Kapoor revealed the real reason behind the delay in shooting of Veere Di Wedding. The actress stated, "That was the original plan, but we couldn't get insurance for Kareena. India is the only country in the world that doesn't insure pregnant women." If you look at it technically, it is sort of because of Bebo that the film's shooting has been stalled, after all. However, you can't really blame her because hey, she was all set to start shooting for Veere Di Wedding. We had even reported how the actress was to start working on the film as soon as she got back from her vacation with hubby Saif. (ALSO READ: Sonam Kapoor and Kareena Kapoor Khan had to CUT their fees for Veere Di Wedding due to the sexist Bollywood industry!)
A lot might wonder why without an insurance did Bebo not start the shoot. It's only a matter of time before she gets an assurance stamp on her insurance. That's not how it works though. An insurance is extremely necessary for every actor. For all the ignorant souls who think it's not that important, you might as well pay more heed to some finance lectures. An insurance gives the actor an assurance that if anything happens to them during filming a movie, they can claim it back. People need to understand that a lot can happen on a set while shooting and hence the actor needs to be very careful not just with respect to the safety aspect but also to make sure they got their insurance on check so they can claim when a calamity occurs. Plus, with Bebo's pregnant state, there might be a sudden maternity emergency on the set. Hence, a lot of care and precaution needs to be kept on check. (ALSO READ: Kareena Kapoor Khan is NOT playing a pregnant woman in Veere Di Wedding!)
However, fear not boys and girls for we know for sure that the shoot will start somewhere in April. Confirming the same, Sonam quoted to the magazine, "We start taping in April and the film follows four girls who are at different stages of their love lives." There are no perils as such for the Veer Di Wedding team and whatever reports of Ekta Kapoor backing out from the film were doing the rounds, it's all false. Both the production house is more than kicked to start shooting. Rhea, Kareena and Sonam even had a Sunday brunch some weeks ago where they looked wow! This is Bollywood's first chick flick and we hope that with this, more filmmakers are inspired to give us some chick flicks for sleepovers! (That was a total girl thing to say!). (ALSO READ: Balaji NOT opting out of Kareena and Sonam starrer Veere Di Wedding – read official statement!)
We do wonder why Bebo was denied the insurance though and is it true that India is the only country that doesn't insure pregnant women? What do you think? Any thoughts? Tell us in the comments section below! Stay tuned to this space for more gossips and latest updates!
Kareena Kapoor was spotted wearing a red cape dress during the shoot

and she looked like a daydream in it.

Image credit: Yogen Shah

Kareena Kapoor rocks her baby bump yet again

and this time it was for a photo shoot.

Image credit: Yogen Shah

Kareena Kapoor was spotted shooting for an ad at Mehboob studio in Mumbai

Bebo looked every inch stylish during her recent photo shoot which took place Mumbai.

Image credit: Yogen Shah

Kareena Kapoor's radiating pregnancy glow was something we couldn't help but notice

Her style game was on point and her pregnancy glow didn't let us take our eyes off the pictures.

Image credit: Yogen Shah

Daddy-to-be Saif Ali Khan was also shooting for the same ad

While Kareena looked ravishing during the shoot, Saif looked dapper.

Image credit: Yogen Shah

Kareena and Saif proved it yet again that they are the most stylish couple of B-town

We have absolutely no doubts that their baby is going to be a style icon.

Image credit: Yogen Shah