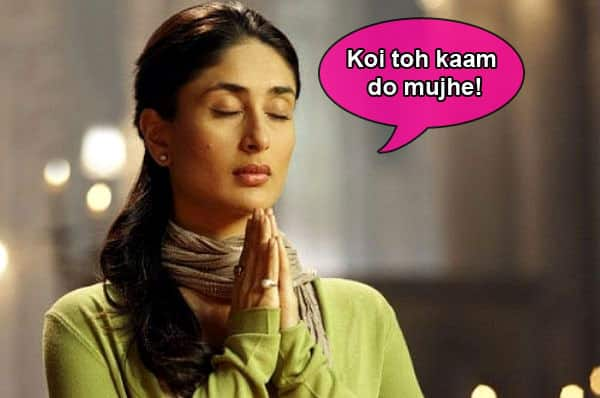 Considered one of the top heroines a few years back, has she started taking desperate measures to bring up her sinking career graph? Else why would she be calling Sanjay Leela Bhansali and begging him to give a role in his upcoming Bajirao Mastani. Read on to know the full story…
Kareena Kapoor Khan seems to have actually taken her role in Madhur Bhandarkar's Heroine to her heart. After delivering flops after flops, Saifu's biwi is being dropped out of important projects. Her career graph is declining and she seems to be out of work perennially. Desperate times call for desperate measures. The film industry is abuzz with reports that the Pataudi khandaan's bahu made calls to Sanjay Leela Bhansali and begged him to take her for his dream project Bajirao Mastani. But that too didn't bear any fruits. Sanjay seems to have already finalised the actors for his next film.
If we recall SLB's Bajirao Mastani has been changing stars in the cast from its very inception. From Salman Khan to Shahrukh Khan to Ajay Devgn to Hrithik Roshan to Ranveer Singh, everyone was once upon a time said to be doing the main lead. Even for the female lead, names kept changing from Rani Mukerji to Katrina Kaif to Kareena Kapoor Khan to Priyanka Chopra to Deepika Padukone. The latest goss is that SLB has finally decided to bring back his Goliyon Ki Raasleela Ram Leela pair together for Bajirao Mastani, which leaves Kareena high and dry.
Our khabroos dug deep into this telephonic conversation between Kareena and Sanjay and informed us that Kareena was straight away said a NO for the lead role as SLB wanted Deepika to play it. It was also informed that Kareena continued pleading for the lead role, but Sanjay instead said that he might think of letting her play the role of Kashibai, who was the first wife of Peshwa Bajirao. It is a fact that Kashibai's character will have an equal screen presence as that of the lead character Mastani. Although Sanjay dodged the bullet by saying that he would think over letting Kareena play Kashibai, we hear that he has already made up his mind on who will be playing Kashibai. We hear that even this second lead will not go to Kareena's kitty and Priyanka Chopra will be playing the said role. Makes sense also because Priyanka was unable to play a bigger role in SLB's Goliyon Ki Raasleela Ram Leela because of date issues when she was approached by Sanjay. But she still managed to do an item song and now maybe SLB wants to repay the kindness and offer Piggy Chops the second lead.
We although feel sorry for Kareena as she was recently ousted from Dharma Production's Shuddhi and now SLB's Bajirao Mastani is also gone from her hands. Is she turning the desperate Mahi Arora from her film Heroine whose career graph is dipping and she takes ever possible measure to get back into the game? Or is she unable to cope with the fact that directors are not willing to work with her, maybe because of her post marital 'date issues'? Or maybe her string of flops is the cause of her being ousted from important project? Is Kareena Kapoor Khan OVER? We wonder…
So go ahead BollywoodLifers and let us know your take on the same!