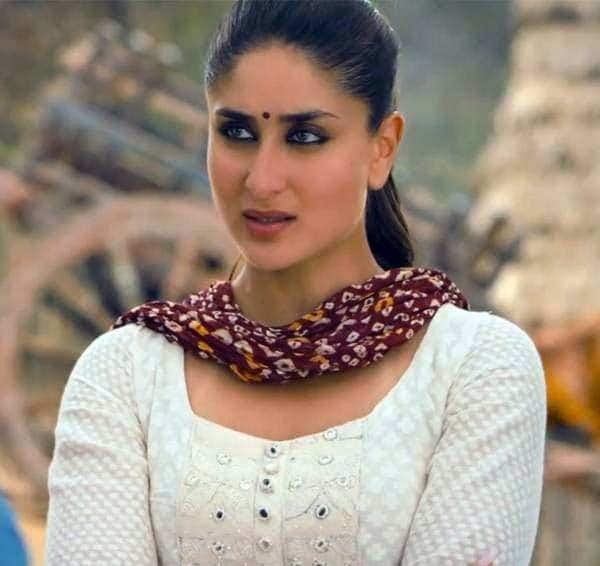 BollywoodLife cornered the ultimate heroine of tinseltown ahead of the release of her new film Gori Tere Pyaar Mein. Bebo opened up on what her film is all about, her equation with co-star Imran Khan and why she thinks that her Nawab miyaan has become more desi than before…
She's girly, beautiful and very easy to get along with. But to meet Kareena Kapoor Khan in person is to discover that she is a very strong character. Away from her glossy public image of a glam star who eats, drinks and sleeps movies, the 33-year-old loves to chat on a range of topics. Perhaps that's why she gets along with Imran Khan so easily. "Imran is more like Saif in terms of his knowledge. He will chat about so many topics from all over the world," says Kareena about her Gori Tere Pyaar Mein co-star. This is Bebo's second film with the honey-eyed Khan after Shakun Batra's 2012 romantic comedy Ek Main Aur Ekk Tu.
We are at Karan Johar's office in suburban Mumbai. A calm evening is quickly seguing into a clamorous night. The impossible traffic of the island city is making its boisterous presence felt, but Kareena's warmth and the elegance of her body language – the seamless fluidity with which she moves – has a soothing effect. Her slimness, her piercing light brown eyes, her alabaster skin…it doesn't take too long to work magic. While chatting with us, Bebo suddenly pulls back her brown hair to show off the glossy, sculptural whiteness of her wide forehead. She is wearing no make-up and yet exudes that divaesque charm effortlessly. Over a cup of coffee Kareena gets lively and chats about various interesting topics..
We hear that Saif Ali Khan was the original choice to play the male protagonist in Gori Tere Pyaar Mein and now Imran is playing that character….
Arre, achcha hain na, Imran hai toh. People loved our pairing in Ek Main Aur Ekk Tu. And here we are, back together. And I am certainly happy about it. Imran is unlike any other Bollywood actor I have worked with. Imran is slightly angrez..
So is Saif, we believe. Isn't he angrez too with his behaviour, his mannerisms and the way he carries himself?
Trust me, Saif is more desi than Imran. You know, Imran talks about so many things, not just Bollywood, and that keeps me entertained!
Oh, come on Bebo – we know that you like to talk, walk, and eat Bollywood movies!
No, not at all. I don't even watch my own movies!
So will your chemistry with Imran be reflected on the screen since you bonded with him so well first on the sets of Ek Main Aur Ekk Tu and now with Gori Tere Pyaar Mein?
We kinda hit it off right from the word 'go'. Imran is very polite. He is extremely charming. He's very chivalrous and gives off that nice warm vibe.
Imran told us that if at all one has to share good chemistry – on the sets or off it – it has to be with Kareena because she is so special. How would you react to that statement?
Too many compliments!
Tell us about your character in the movie…
I am playing this NGO worker who thinks that she can carry the burden of all the worries of the whole world on her shoulders. She wants to take on everything. She wants to be a part of every active campaign. Right from anti- corruption to anti-pollution rallies – she is concerned about everything. She wants to be everywhere. She is very headstrong. And however serious this role might be, you can't forget the fact that this is a Dharma production in the end. So you will see me in gorgeous salwaar-kameez aur bilkul chingum chabake naachna, wagaira. It's a Karan Johar film, after all!
What's with this cheeky act – first you pinched Imran's bottom in Ek Main Aur Ekk Tu and now you are kicking his butt in Gori Tere Pyar Mein!
In Ek Main Aur Ekk Tu I played a bratty young Parsi girl and in this movie I am slightly mad. And you can see the madness there. She's kicking Imran's butt. I guess that's why Punit Malhotra wrote the song called Tooh.
From Jab We Met to Ek Main Aur Ekk Tu and now Gori Tere Pyaar Mein – does Kareena Kapoor Khan enjoy playing characters that are extrovert, chirpy and have a mad streak?
That's because I am a little mad person even in real life. If a project does not excite me, I will never do that movie.
Since you are playing a social activist in the movie, how aware are you about what is happening around us politically or socially? What's your take on the current situation of law and order in India?
I just hope that our laws get reassessed. We need to take our laws seriously. I also believe that politicians are such a joke in this country. They themselves break the laws. Just look around. People are scattered; they are wandering, aur kuch bhi chal raha hain. I think it is getting worse.
All I can say is that we need to vote for right people, but for that to happen people should be educated in the first place. Problem with us is that to run this country and sustain democracy, we need equality. We have so many classes, more poor people you see on the roads these days and more uneducated people you see even in the cities and you wonder if they are going to make right choices if they vote for a candidate who they think is right for them.
Saif is getting increasingly busy with nurturing his production house. Does he seek creative inputs from you for films like Go Goa Gone?
Trust me, I give zero inputs. I don't discuss work with my husband whatsoever. He doesn't even know that I am doing an interview with you. He will never ask me. We don't discuss movies in our house. Our lives are not only about movies.
How do you see your journey in the past ten years? What roles would you like to play in the days to come?
It's been fabulous so far. I can't thank God enough for giving me this beautiful life. I have only one wish – that when I turn 60, I would like to be remembered as an actor and not a star, because stars come and go, but actors remain!
ALSO READ EXCLUSIVE INTERVIEWS WITH Imran Khan and director of Gori Tere Pyaar Mein Punit Malhotra
Imran Khan: Acting is like doing your exercises every day! 
Punit Malhotra: Kareena Kapoor will overpower Imran Khan in Gori Tere Pyaar Mein!