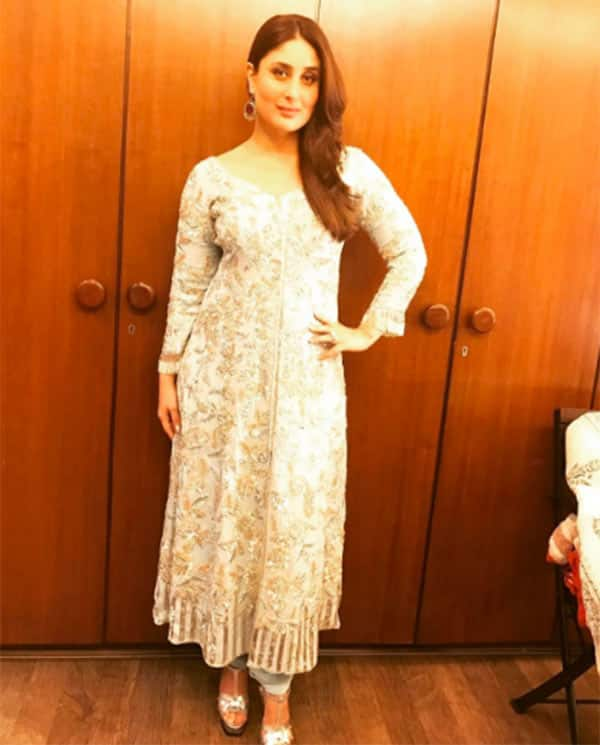 Kareena Kapoor Khan has never looked anything but gorgeous. Even if she is in her gym clothes, she has looked like a treat to the sore eyes. We still aren't over her style statement during her pregnancy. Everyday she would venture out looking million bucks and take our breath away. Fortunately for us, Kareena is continuing with this trend even after giving birth to Taimur. Today, for her father Randhir Kapoor's 70th birthday bash, she wore a salwar suit replete with intricate embroidery. With minimal accessory and makeup, Kareena is looking like a goddess. The creation is by her favourite designer Manish Malhotra. No wonder she seems so happy with her outfit. (Also read: Kareena Kapoor Khan says she will take Taimur on shoots, if need be)
We can't stop but revel at the way Kareena has decided to do away with her post pregnancy weight. She is working really hard to shed all the extra pounds and its doing her whale lot of good. We told you how she has been trying different things to kick away the extra weight. She has joined kick boxing which apparently helps in swift reduction in body weight. And clearly Kareena is rocking it. She also went through a makeover which is suiting her just right. In fact the lady is so kicked about losing weight that she even suggested her dietitian Rujuta Diwekar to get back to the Tashan diet. Thankfully, her dietitian shot the suggestion down!
Revealing the same, Kareena had said during an FB live session, "After pregnancy, I was like let's do that (Tashan diet). Rujuta said no we can't do that because we are in too much progression. So no crash diet, it's a gradual process and we are building the body for that." Well, we just love the way you are Kareena but if you are determined to let go those extra pounds, we salute your dedication. One thing is for sure. Her hardwork is paying off…Look at her in this picture!