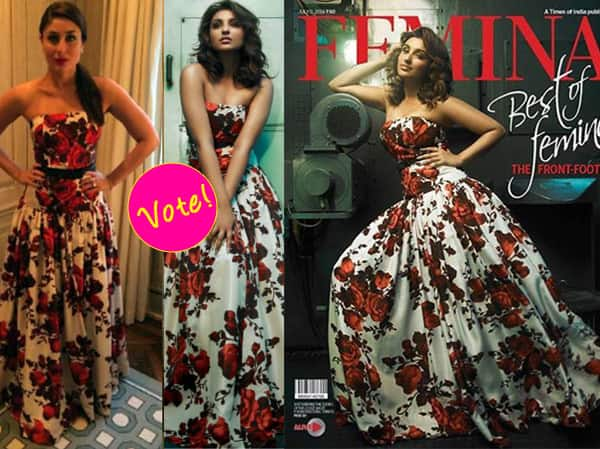 Pari was spotted in a similar gown worn by Kareena in the past. Tell us who looked better
Parineeti Chopra has posed for the coverpage of a popular glossy for the month of July. Yes, we know a lot of B-town divas pose as covergirls, so what's the big deal. Well, the goss is that Parineeti is wearing the same Atsu Sekhose gown that was worn by Kareena Kapoor Khan at an event, earlier this year.
Parineeti Chopra: On the magazine's cover, Pari has let hair hair down and posed with one hand on the hip. Pari has maintained a natural look on the cover. What more, she looks so confident while striking a pose for the 'bugs.
Kareena Kapoor: When Kareena had worn the same strapless floral gown, she had pulled her hair back in a ponytail with a sideswept partition. In the Atsu gown she was radiantly glowing with her lips smeared red. No denying Bebo looked pretty, but it was nothing different from her usual looks.
Well, it's a known fact that Parineeti Chopra has a huge crush on Kareena's hubby Saif. So much so that she's even said that she would play a tree in Saif's film. We wonder if Pari picked the same dress sported by Bebo on purpose so as to get the Nawab's attention. Giggles! Bebo, better watch out, hai na? Considering the young girl is starring in a film opposite him, very soon. Anyways, here's our verdict!
Our pick: Honestly, it's quite difficult for us to pick one of these glam dolls in the Atsu gown. However, if we were to choose, wethinks that Parineeti looked better. For one, despite wearing a gown, she looked her casual and quirky self. Also, she didn't try to dress up just to look classy in the gown, but rather made her own style statement.
Meanwhile, don't forget to pick your favourite. Kareena Kapoor or Parineeti Chopra – who wore the Atsu gown better?