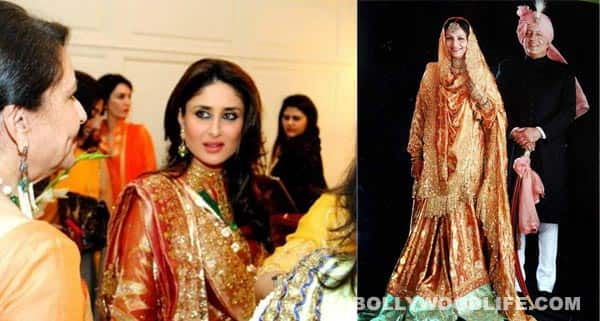 Bebo was recently spotted with mom-in-law Sharmila Tagore at a pre-wedding function of hubby Saif Ali Khan's cousin. And KKK looked resplendent in an ethnic bishop sleeved ensemble
Kareena Kapoor Khan is doing what it takes to fit into the royal garb of a begum. Her look at a recent do left us awestruck. She wore an orange and green churidar-kameez which obviously made her look like a nawabi bahu. Her outfit is reminiscent of veteran actor Sharmila's Farshi pajama that she wore on her wedding day. They may be diametrically different creations, but the similar bishop sleeves, the high necked style and the gold-tissue gleam of the ensemble rich with old-school embroidery is enough to let us figure that both designs have all the prerequisites to make the Khan bahus look like absolute divas.
But who wears the begum tag better? We think that hands down it is Sharmila Tagore. Kareena Kapoor may be the ultimate style icon, but a begum should have the gumption to wear something vintage and out and out traditional without modifying it much. We loved the pink gharara she wore for her own reception in Delhi; it looked very authentic and KK managed to maintain that begum-like attitude throughout the soiree. But honestly, nothing can beat Sharmila's classic nawabi dress. The scalloped hem, the intricate zari work, the jewellery that  screams – 'I am purely shahi' and so much more has totally blown us away.
It takes a great amount of simplicity, sophistication and love for ones style roots to look like a gorgeous begum. We can see Bebo following mum-in-law's diligently placed footsteps. She will get there sooner rather than later, we know…