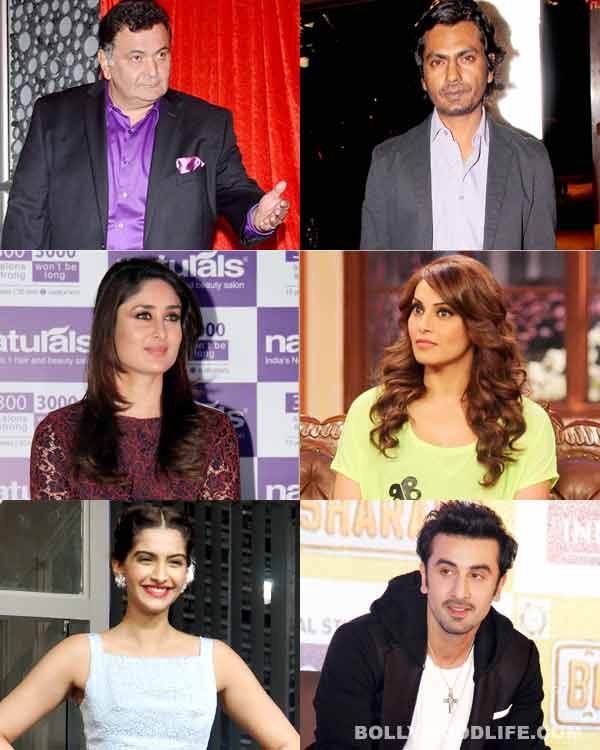 Recently, The Lunchbox Box actor found himself amidst an uncalled for controversy and attacked with some mean remarks by a veteran actor
Nawazuddin Siddique's small frame and acting prowess has got him name, fame and ahead of his game in Bollywood. The actor however has found himself in news for all the wrong reasons of late. After a tiff with good friend Irrfan Khan, veteran actor Rishi Kapoor and Siddique are at loggerheads. It seems that the bone of contention here was the repetitive romantic song and act dance in Bollywood that actors do not mind doing again and again. While Ranbir Kapoor's father shot at Nawaz with his razor sharp comments, it seems like B-town has no dearth of mean beings. Kareena Kapoor Khan, Sonam Kapoor, Aamir Khan and Karan Johar are few B-townies who have made not so nice remarks about their colleagues and competitors. Here's a dekho!Rishi Kapoor – Nawazuddin: The veteran romantic hero of Bollywood didn't go easy on a generic statement made by Talaash actor and instead pointed a dagger at poor Nawaz with some mean remarks. RK said, "I have read that some actor named Nawazuddin said that romantic heroes just run around trees! It is difficult to bloody sing songs and romance the heroine. How could he say such a thing? You (Nawazuddin) haven't done it (running around trees) in your life; neither will you get a chance to do it. And you aren't capable of doing it either. You don't have the image; you don't have the talent." Nawaz took this attack in his stride and said, "I respect Rishi Kapoor, I am his big fan. If he feels I am an average actor, it is a compliment. Actually, I am below average. He is extremely talented, and I am still trying to be an actor." He  was even willing to clarify his statement with the Sr Kapoor. Wethinks Chintu uncle's reaction was just over-the-top!
Kareena Kapoor Khan: She can be termed as the eternal or the ultimate meanie, from taking credit for hit films that she has rejected to not acknowledging competition or young talent this diva has done it all. Kareena Kapoor might have literally kissed and made up with Bipasha Basu in the recent past, but Bebo was the one who had referred to her Ajnabee co-star as 'kaali billi', nasty indeed. That's not it she has never shied away from being curious about Priyanka Chopra's angrezi accent or then credited herself for the success of Deepika Padukone and Kangana Ranaut's movies. Though Ms Bebo has already lost her numero uno position in B-town, she is definitely the front runner in race for the meanest Bollywood celeb.
Aamir Khan: While the Dhoom:3 star has praised good friend Salman Khan on every occasion his equation with Bollywood's romantic hero Shahrukh Khan has always been bitter and distant. AK might be playing the perfect social crusader as Satyamev Jayate host, but the P.K hero had once named his dog Shahrukh after his competition and worse, he even announced it to the world.
Sonam Kapoor: The fashionista was on her ex lover Ranbir Kapoor's case in the last season of Karan Johar's chat show, so much that her remarks about the Kapoor lad had angered his hot-headed pappa Rishi Kapoor. Sonam went on to sympathise with RK Jr's another ex-girlfriend Deepika Padukone, but she rated Ranboo extremely low on sex appeal not to forget the innumerable jabs made at RK's wandering ways. Sonam managed to up the entertainment on this show and the controversial remarks extended beyond the show.
Karan Johar: He may be suave and well spoken, but KJo certainly can zip and lock the wittiest people with his layered one-liners. Everybody from Priyanka Chopra to Ram Gopal Verma can confirm this. Karan had hit out hard at PeeCee when rumours of her link-up with good friend Shahrukh Khan made headlines. That's not it, his Twitter brawls with RGV are entertaining, with Johar at his meanest best. And yes, this host is a brat who can get a mentor and a protege to have an open war. Only KJo could manage to get Anurag Kashyap talk about his guru's downfall.