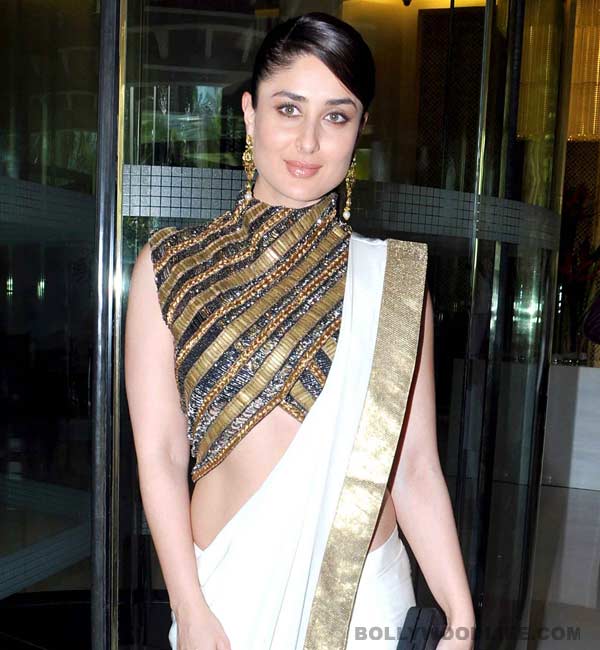 Bebo rubbishes pregnancy rumours; says she is not interested in being a mother at the moment…
When pictures of Kareena Kapoor Khan at a recent event appeared on the internet, they sparked pregnancy rumours. The actor was glowing in a cream and golden sari that partially covered her belly.
In the photographs, she looked plumper than her usual self, which is normal. Most heroines let go a little when they are not shooting. And Bebo hasn't been shooting for the last few months.
Is Kareena Kapoor Khan competing with hubby Saif Ali Khan?
When contacted, Kareena said, "This is complete rubbish! This is a very sensitive topic and people should learn to give us some privacy on such matters. In fact, people in the fashion world have been telling me that I have never looked hotter or more stunning. Saif and I have maintained that we have no interest in having a child for the next five years! We already have two children (Saif's children Sarah and Ebrahim) and we are very happy. Why do people keep asking us the same thing? It's become so boring now! I wore an Anand Kabra sari and people loved my look."
Lately, Bebo has been missing from all events, also award functions, which has further fuelled the rumours. Bebo snaps, "But why would I go for an award event where I am not performing? I have not gone for certain award events for the last couple of years. Besides, everyone knows that actors attend events only when they get paid to perform. I did perform at the producers guild award event. I couldn't perform earlier this year because I was holidaying with Saif in Staadt. Right now I am really happy in my life and have no interest in being a mother. Saif and I are a modern couple and have said it clearly at every platform."
Is Kareena Kapoor Khan out of work?
Kareena says all the speculation about her body will end when she starts shooting for Singham 2 in March. "Right now I think my body looks just perfect — voluptuous and sexy! And with my current workout and diet regime it's just going to get more toned and hotter! I am looking forward to doing more films this year."
Story text courtesy DNA