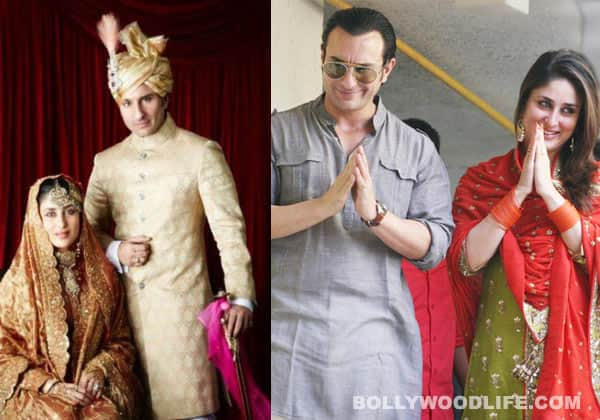 Facebook, Yogen Shah
On October 16 last year Bandra was the destination of the media and fans. It was the day that Saif Ali Khan married long-time lover Kareena Kapoor. And it has been a whole year since – something special has to happen! But what will it be?
Saif Ali Khan the brand new Nawab of Pataudi was marrying Bollywood's heroine No 1 Kareena Kapoor. I remember very clearly the sweat and dust playing spoilsport as fans and the media gathered to catch the first glimpse of the newlyweds. Saifeena stepped out looking ubercool, dressed casually – Kareena wore a green and red salwar kameez, while Saif wore a linen kurta; neither outfit screamed the big news that the big fat Indian wedding was done! It was a quiet registered marriage solemnised with close family in attendance. A year later, today Kareena Kapoor Khan and her pati are holidaying in London to celebrate one year of wedded bliss. And she has promised that her gift to her patidev will be as special as her feelings for him. And whatever she actually does give Saif, we have some ideas, funky, fun, frivolous even, but what we know the Nawab would be happy with. And no, we are not going usual route with an expensive watch or a fabulous pair of shoes, but we expressed our mad genes for inspiration and came up with….