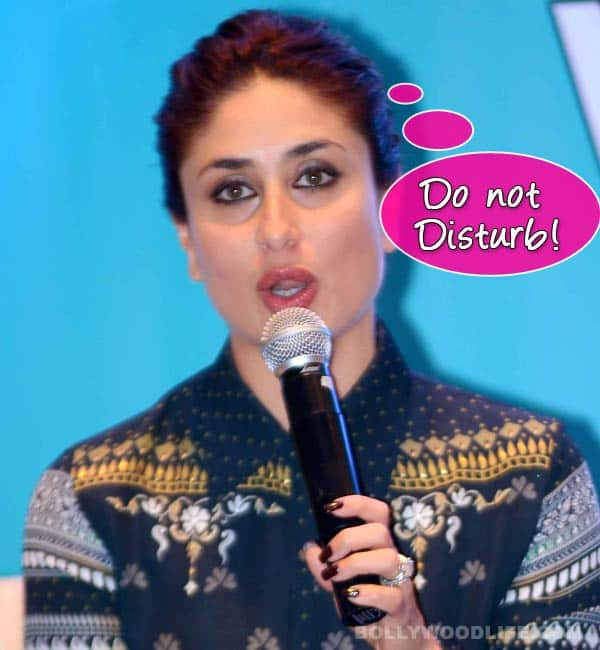 The Singham Returns heroine has been in the spotlight for almost fourteen years now, but looks like she wants a vanvaas (read: break) now. Find out why…
Kareena Kapoor Khan has been in the news for all wrong reasons. The once reigning Queen of B-town has not just had flops to battle with, but has lost out on plum projects and has made it to the headlines for all the wrong reasons. Considering that the bindaas babe didn't mind being talked about for whatever earlier, today the scenario is quite different. Guess her fading Bollywood career has made the untouched Kareena Kapoor a little too sensitive. With only Singham Returns and her not-so-happening commercial deals to talk of, Saif Ali Khan's begum recently lost her cool. In an interview to a daily she said, "You know, for the last 10 years, everyone is like 'Kareena is now having ­problems with this one or that one'. Leave me alone, baaki sab ko dekho na. Why are they always after me? Why must I always be targeted? Everyone is just after me!" Surprised?
Well, we ought to remind our Heroine that she is still a Bollywood star, even if she's losing her shine. And when you are a Bollywoodwallah people are bound to talk about you, na? It's strange how none of these actors complain when showered with praises. However, a piece about their failures will get the most catty reactions. So if the younger league is taking over her place and she lost out on plum project like Shuddhi and Bombay Samurai, she should hold her last flop Gori Tere Pyaar Mein responsible. And unlike a few years ago, today Bebo is discussed more for dearth of film roles than her rivalry with co-stars.
As for the actor's issues with co-stars and lesser known directors, it's not just the press, but good friend, filmmaker Karan Johar too has been vocal about on his chat show. Not to forget, Bombay Velvet director Anurag Kashyap too had a piece of advice for this dame during his debut on Koffee With Karan 4, he said, "Next time you (Kareena) should not ask who is in the film, you should ask what is the film (about)."
And who can forget Ms Kapoor labeling her Ajnabee co-star Bipasha Basu 'kaali billi.' Now that motormouth Kareena didn't mind making these statements in her heydays and got away with some real mean comments, we thinks she should be ready to bat some herself instead of playing the victim, right BollywoodLifers?
As far as focusing on other heroines is concerned, let's just inform Kareena that the limelight has already shifted from her.