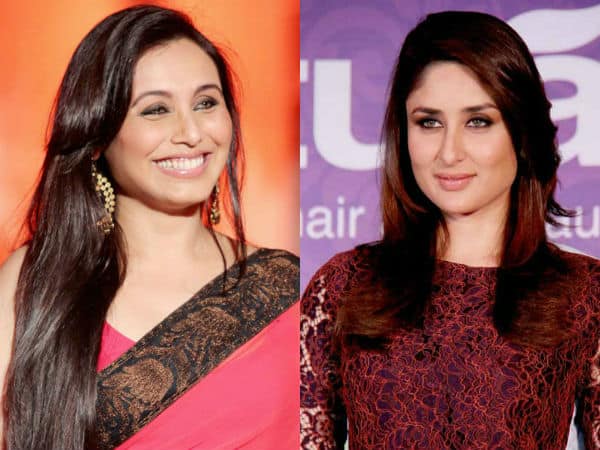 The Singham Returns star recently opened up about her bond with the Mardaani actor. Read on to know more…
Little known facts:
Kareena Kapoor Khan and Rani Mukerji are 'very good friends'.
Saif's two favourite actresses: Bebo and Rani.
The bone of contention
Kareena said at a media event last week that her sis Karisma is best at pulling a de-glam, no make-up roles (think Fiza and Zubeida). A dig at Rani's Mardaani, perhaps?
Rani's reply
Rani says she'll watch Singham Returns when it releases. Praises Kareena's acting prowess. Tells media not to compare SR with Mardaani as the former is a far bigger film.
Bebo's two bits
"Rani is a dear friend. We have done three films together and we get along very well. We both are mad, talk incessantly and love talking and eating when we meet. We met on an aircraft once and the whole aircraft was like, 'You girls are talking too loudly!' To me, she is one of the finest actresses in Bollywood, if not THE finest. Rani has made her cop character look completely real. Am travelling now, but plan to watch Mardaani after returning from London. Mardaani is about women trafficking and Singham Returns is more masala."
 The History
2012: Reports of cold war emerge after release of Talaash. Bebo gets more screen time, but Rani gets applause.
2004: Yuva releases. Kareena plays young go-getter, Rani an abused housewife. Tiff? No tiff!
2002: Mujhse Dosti Karoge! Happens. Kareena's the outgoing one, Rani plays introvert. No jhagda reported.
Saif to say…
Any actresses Saif likes? Says Bebo, "Saif doesn't see Hindi movies. To like a new actress he has to see movies (laughs)! But I know he liked Rani a lot apart from me, so you can count her as one of his favorites."
Parting shot
"With PC, there can never be a problem. I really like and respect her."