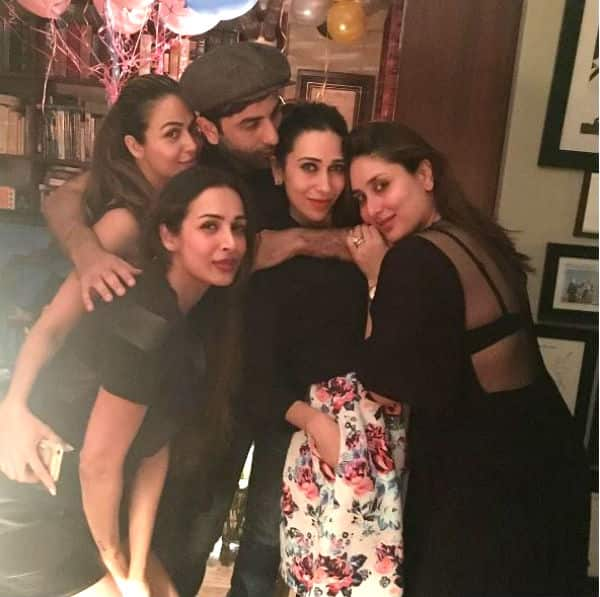 Kareena Kapoor Khan's birthday definitely couldn't have got any better than this! While Kareena was very clear about the idea of celebrating her birthday with just a few close ones. Her loving family made sure they spare nothing to make her 36th special. Hubby Saif Ali Khan hosted an intimate party at their residence and boy, can we just take a moment to stare how Ranbir stole the night by being Bebo's best cousin ever? No seriously! It was a complete family affair with just the Kapoors and Khans in attendance. Not to mention, everyone looked damn stylish including Saif's daughter Sara Ali Khan who made a rather sexy appearance at this party. However, the highlight of the night had to be Ranbir who posed like a million bucks in all the pictures. Check out this above picture and you will know what we're trying to say. Also read: 10 Kareena Kapoor Khan quotes that prove she's the queen of sass!
Probably Ranbir was in his best party mood where he not only clicked tons of pictures with Bebo but even raised a toast to the birthday girl as they clicked one helluva group picture. Aww! Such a happy family! We love how the Kapoors and Khans are always glued together and exactly know how to ring in celebrations with much love and class! It's like going by that saying – who needs friends when you have a family like this? But of course, talking about Ranbir and Kareena, they admire each other way too much. In fact, just recently Bebo had lashed out at people who call Ranbir a flop actor stating, "Ranbir Kapoor is the superstar of our Hindi film industry. I don't think anything can shake him (bring him down). Even if he gives 25 flop or hit films, he is the best actor till date. I don't like the fact when people say Ae Dil Hai Mushkil will bring back Ranbir back (on track). I think everybody has hits and flops…even I have had flop films. I don't think anything deters the stars and stardom in his eyes. He is one of the finest actors that we have today." You see the louuvee? Also read: 36 times Kareena Kapoor Khan proved she is a total style diva!
Nevertheless, from the little that we know, Saif has also decided to whisk Begum off to Dubai for a quick getaway next week. Yes! The couple plans to spend some quality time together by the beach while indulging in lavish brunches, spa sessions, luxury shopping and three nights in one of UAE's most expensive villas. Well, now if this doesn't sum up Bebo's life then I dunno what will.