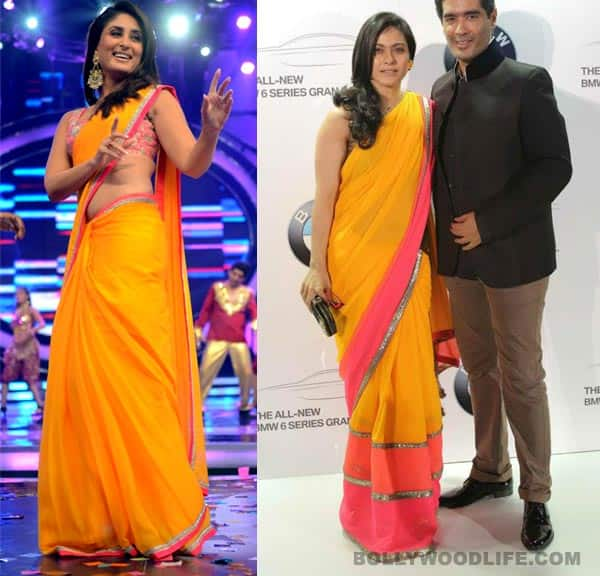 The two ladies seem to be smitten by the bright mango yellow hue. Don't they look gorgeous in that shade?
Manish Malhotra seems to be inspired by the colour of the pleasant sunshine and the hues of scrumptious mangoes. And we say so 'coz he has been creating some amazingly vibrant sarees for his Bollywood ladies. So when we spotted a pic of Kareena Kapoor – who's known to be one of Malhotra's biggest fans – in a stunning MM saree that she wore in the fairly recent past, it struck us that Kajol wore something similar recently at a car launch event. The ladies were seen in the same kind of saree but with different border styles. While Bebo's creation had a simple, thin pink edge, Kajol's was much more elaborate, with coloured strips of pink, peach and bling used on the border.
The divas let their hair loose and went for the sans-accessories look. The hint of pink on the monochrome yellow saree stands out like a stunning smile on Kajol and Kareena's faces. But when it comes to our judgement call – Kareena looks better for all the right reasons.
So what do you think?