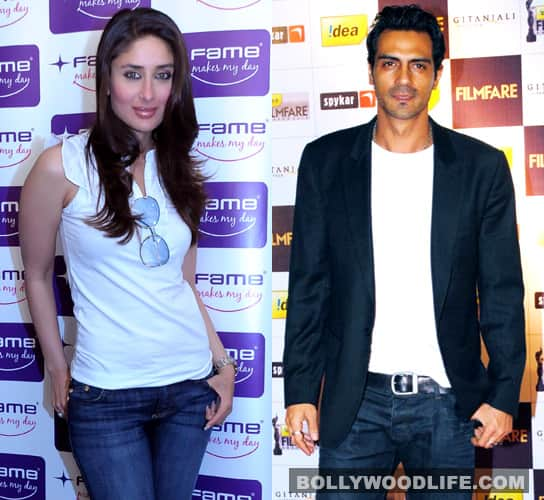 The gorgeous babe, who will be seen pushing the envelope in Madhur Bhandarkar's Heroine, shot the boldest scenes of her career with Arjun
Kareena Kapoor, who was last seen doing some intimate scenes with beau Saif Ali Khan in Kurbaan, had sworn off them owing to a 'no intimate scene deal' between the couple. But Kareena seems to have found a way to wiggle out of it, considering that she recently shot for one of the steamiest and boldest sequences of her career with costar Arjun Rampal for her upcoming film Heroine.In fact, Arjun, who has not shot an out-and-out bold scene in his career so far, too felt the heat of the racy sequence. A little birdie just chirped to us that director Madhur Bhandarkar was very specific about how he wanted to shoot the scene. It was a closed door affair with only the actors, DOP (director of photography), a couple of key assistants and the filmmaker. While discussing the scene, Madhur said in an interview that the hot scene between Priyanka Chopra and Arjan Bajwa in his last film Fashion was quite tamed compared to the scene he has recently shot with Arjun and Bebo.
Apparently, Kareena was very clear about her reservations to not shoot anything steamy for Heroine initially, but going by the trend of racy sequences working big time on the box office, Madhur decided to push the envelope. Clearly, Bebo too is convinced with trend triggered by Vidya Balan's The Dirty Picture. The director also says that this scene will be quite different from most others in Bollywood. Defining this scene in brief and drawing parallels, Madhur has said that the love making scene in Fashion was vegetarian, while this one will create a 'jalwa'. The director definitely seems to be super impressed with the way this hot scene has turned out but we would like see it before we can believe that it is one of the boldest acts in B-town. Right, guys?