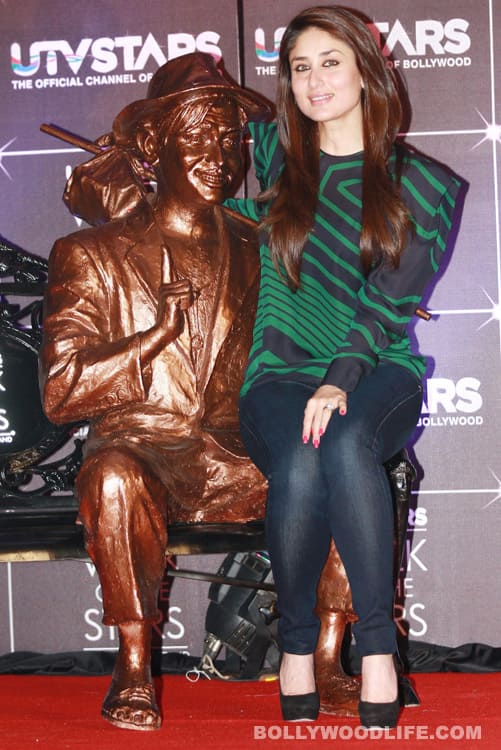 skip advertisement
It was a rare occasion when we spotted Bollywood's glam divaKareena Kapoor sharing a bench with both her father Randhir Kapoor and grandfather Raj Kapoor. Though the Agent Vinod's star affection towards her grandpa was palpable, Bebo admitted that the legendary filmmaker was always biased towards Karisma
She is Bollywood's ultimate oomph babe and the darling of many accomplished directors, but that did not stop Kareena Kapoor from getting the raw deal from her grandfather Raj Kapoor when she was young. Kareena who was looking smoking hot in a green top and black jeans unveiled the statue of her grandfather. At the event, the actor shared an interesting anecdote; apparently the legendary filmmaker and ultimate showman of the Indian film industry, Raj Kapoor was always biased towards Karisma.
Bebo also mentioned that it was her father, yesteryear actor Randhir Kapoor and her late grandfather Raj Kapoor who inspired her to be an actor and excel in the industry. "I am very proud to be born in the Kapoor family. My grandfather and father inspired me a lot. I am what I am because of them," said Bebo. "But I must add that my grandfather was biased towards Karisma as she had blue eyes like my grandfather and my eyes were similar to my dad. I even remember, during summer seasons he'd (Raj Kapoor) give Karisma two mangoes while I just got one," added the 31-year-old actor. Sitting on the lap of the Raj Kapoor's glittering statue, Kareena posed for shutterbugs and quipped. "He is the only man Saif would allow me to sit on the lap."
The gorgeous babe struck a pose between her grandfather (immortalised in the brass statue) on the right and her father to her left. Kareena also unveiled signature prints of Prithviraj Kapoor, Raj Kapoor, Shammi Kapoor, Sunil Dutt and Nargis, which too would be installed at the Bandra Bandstand promenade along with the brass statue of Raj Kapoor and Shammi Kapoor sitting on a bench.
ALSO READ: Kareena Kapoor needs a break