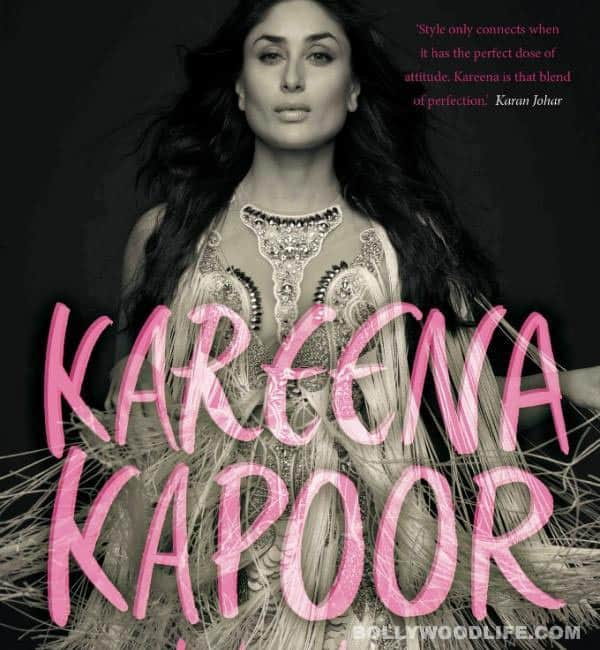 The book is an exhaustive list of clichéd style tips – something that fashion lovers like us come across every day in style articles or fashion magazines
When you read the title of the book, you expect Kareena Kapoor to blow you away with content that's out-and-out different, just the way she does in her films with her performances and her really cool ensembles. But your expectations crash and burn spectacularly, especially after discovering that the book is not even half as interesting as Bebo's real and reel life fashion sense. The irony is that even though it's primarily about style, the parts that really interested us are the tidbits about her personal life, her growing up days and anecdotes that clearly define the kind of relationship Kareena shares with her near and dear ones. It's in those parts that hardcore Bebo fans will get some genuine info about the actor's 'raised in a middle class' way of life. But the rapture soon ruptures when the style clichés seem like an endless, yawn-inducing journey. There's so much repetition in the book that after a while it seems as if it's all Bebo's wicked intention of testing your loyalty as her admirer. The constant mention of her favourite holiday destination Gstaad in Switzerland where she loves spending quality time with Saif Ali Khan is irritating after a while – why waste pages hammering home the same detail in virtually every other page?
Also, trust Bebo to sound like a philosophical guru after a while – and that's again a double-edged sword. It's good that KK is motivating and encouraging millions of women who look up to her to be confident about their shape and eat in moderation and all that jazz, but women like us who are frequently exposed to such ideologies and are voracious readers will find that extremely frustrating after just a couple of pages. Self-reinforcing statements sound good when Paulo Coelho spews them out after sugar coating them with flowery words. But Kareena (Heroine) Kapoor?
Just when you think we are being too harsh on Bebo and writer Rochelle Pinto, there are certain portions that we found riveting too.For instance, the way Kareena describes certain famous designers and their USPs was good. So while she raved about the way Rohit Gandhi and Rahul Khanna incorporate loads of attitude in their creations, Roberto Cavalli also made his way to her list for making her look like an absolute diva. The section on bikinis was quite different from the rest of the style write-ups, with Bebo getting slightly cheeky about the weird tan a monikini can give.
We also liked the style confessions KK makes, and she obviously made sure not to go overboard with it. It gave us the instant giggles to discover that a loose Fabindia kaftan is the actor's favourite sleepwear, her comfort outfit, something she can't part ways with, which also happens to be a garment  that Babita (Bebo's mother) and Saif hate  most. Not just that – she also loves wearing hideous platform chappals, and yes, she's guilty of that Ekta Kapoor-esque crime too.
Quite inconsistent; some pages bore you to death while others keep you pretty much hooked and make you grin – just like that joke when Saif called Kareena a 12-year-old boy when she was on a weight-losing spree. And if all this wasn't enough to satiate your dose of Beboness, there are also a lot of attractive and stylish pictures that will pass your time and make you feel less guilty about picking up a book with such mundane fashion details. But this one can be quite a boon for not-so-regular fashion/ health readers; you might end up gathering a lot of useful info, but if not, then God seriously help you!
Kareena Kapoor the style diary of a Bollywood diva with Rochelle Pinto, Penguin Books India,  Rs. 699.
Verdict : Not worth the time!