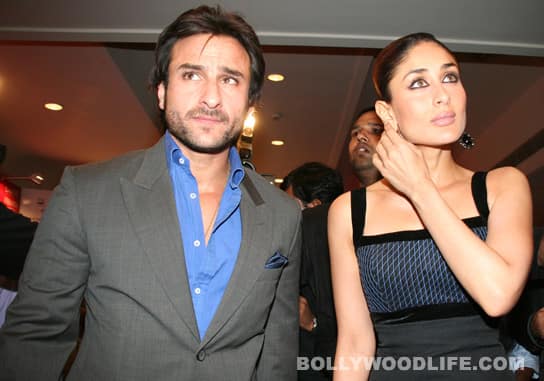 That's the news doing the rounds of the gossip mill lately – and it was even hotter buzz after Bebo's Ek Main Aur Ekk Tu co-star Imran revealed Saifeena's D-day date at a promotional event
As Kareena is inundated with questions about her wedding plans with Saif every other day, the one person who's making the tedious interrogation process easy for the Kapoor babe is her EMAET co-star, Imran Khan. So when the duo recently made an appearance in Delhi and left no stone unturned in promoting their new film vigorously, Kareena's heavy-duty plans of avoiding personal questions by the media went absolutely down the drain. As curious reporters pestered her to speak about her wedding plans, Imran poked his nose into the situation and revealed the final date to the paparazzi. As he announced that the knot will be tied exactly a week after Agent Vinod's release – which is on March 23 – Kareena interrupted and quipped, "Isn't that April Fool's Day?" Disappointed with Bebo for blowing the lid off his super cool joke, Imran didn't fail to rub it in and told her that if she hadn't opened her mouth in between, this would have been national news by now. We must say that Saif and Bebo are having too much fun taking the hush-hush route.
We wouldn't be surprised if we suddenly discovered that this glamorous duo is already hitched and are just playing hide-and-seek with us; and we could easily believe it, since both Saif and his lady love wear significant looking rings on the appropriate fingers! Well Saifeena, in our language we call it 'cheap thrills'…or 'guilty pleasures' perhaps?