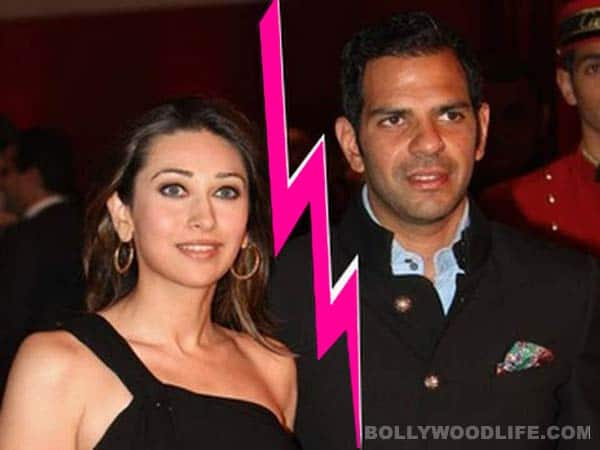 Kareena Kapoor Khan's didi and estranged jiju might also move to the court for a divorce
Karisma Kapoor and her estranged husband Sunjay Kapoor are all set to battle it out in court for the custody of their children – Samaira and Kiaan. He has filed a petition for the same in the Bandra  family court recently. Grapevine had it since long that he was fighting a custody battle for their nine year old daughter Samaira, but now it seems that he also wants custody of  their four year old son Kiaan. His lawyers Jalaja Nambiar, Narayan Suvarna and Radhika Mehta are tight lipped about all details relating to the case.
Our khabroos also inform us that Karisma has been sent a copy of the petition as well and she is all set to battle it out and is in no mood to give in for an out of court settlement. A leading newspaper also informs that Sunjay was compelled to take this step as he was denied access to their kids continually. The two have been leading a quasi separated life for a long time now, but it seems after this step, Kareena's elder sister will definitely start contemplating divorce stating irreconcilable differences with Sunjay. Sunjay's friends and family have time and again admitted to the fact that he will never divorce Karisma, but seeing the turn of events he might just change his mind. A source close to Sunjay informed a leading daily, "But I think the time has come when they want to break free from their marriage and move ahead in life."
There have also been rumours that Sunjay is going around with hotelier Vikram Chatwal's ex-wife Priya. They bothe have been spotted many a times at various nightclubs and they seem absolutely inseparable. Priya's divorce from Vikram is done, and now if the two want to solemnise their relationship then Sunjay will definitely have to dissolve his marriage with Karisma. Talking to a leading daily a source informs, "Karisma definitely doesn't like Sunjay's proximity to Priya. She is extremely stressed out. She's keeping quiet because Kapoors don't wash their dirty linen in public. But she will answer Sunjay in court."
Karisma married Sunjay on September 29, 2003, after she broke up with Abhishek Bachchan. Bachchan moved on to marry Aishwarya Rai, and their marriage also has rumours of having a rift. Now only time will tell as to what will happen of the future of the kids Samaira and Kiaan. Keep reading this space for more information of the same.