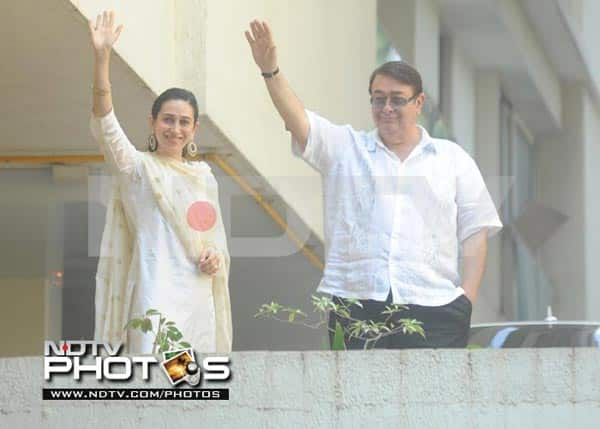 The loving couple registered their court marriage this afternoon in the presence of close family
Kareena Kapoor and Saif Ali Khan finally formalised their union this afternoon. The registrar, who was supposed to arrive at Saif's Khar apartment by 12 noon, was a little delayed, but now B-town's most talked about couple is legally married.
Sister Karisma Kapoor was one of the witnesses who signed the register. So Kareena is now Mrs Kareena Kapoor Khan – which is the name that will appear in the credits of Talaash, her film with Aamir Khan and Rani Mukherji! The couple is now preparing to exchange vows Christian style (Kareena's mum Babita is Catholic, we are told) and host their wedding reception at Taj Mahal Palace and Towers, Mumbai, in the evening. Yes, it is the same hotel where Saif was embroiled in a fight with another guest some months ago.
The festivities don't end there. The newly married couple will gear up for their nikaah that will take place at Saif's ancestral home of Pataudi Palace, followed by the Dawat-e-walima on October 18 and the high-profile reception in Delhi for Sharmila Tagore's invited guests.
Read all about the Saif-Kareena wedding!
Saif Ali Khan and Kareena Kapoor's wedding gift from PETA!
Saif Ali Khan and Kareena Kapoor married!
Saif Ali Khan and Kareena Kapoor sangeet ceremony pics: Amrita Singh's daughter Sara attends!
Why are Saif Ali Khan-Kareena Kapoor tight-lipped about their shaadi?