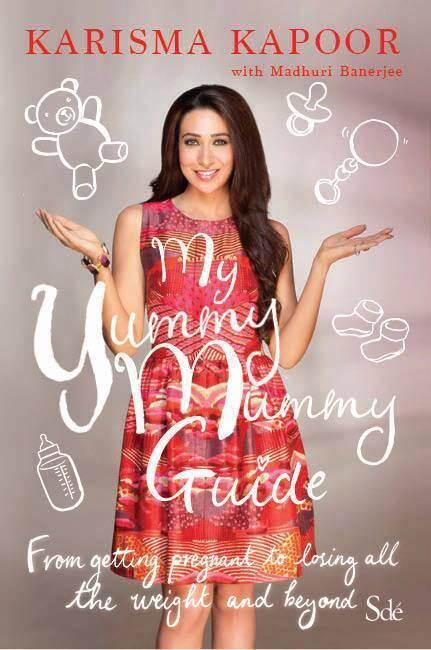 Though the guide to being a yummy mummy is readable and has some valuable suggestions for a new parent, it should have focused on its target audience
When we first saw My Yummy Mummy Guide by Karisma Kapoor, our first thought was that it would be about a star mother and not much else, but as we flipped through the pages, we found that there was much more than that. Karisma has dedicated the book to her children Samaira and Kiaan, who are the reason, she says, for her writing My Yummy Mummy Guide. The book talks about everything from getting pregnant to losing weight after your baby arrives. It begins simply with tips that can help you get pregnant and then travels along the journey through the nine months of gestation. There are detailed sections on fitness and beauty during and after pregnancy, which are a good addition to the regular guides available. The book covers dealing with visitors after your baby is born, planning parties for kids, travelling with children, managing work and family and balancing it all without losing your own identity.
Karisma Kapoor: confession mode
The actor has made several confessions that you can relate to. The blue eyed beauty has confessed that since she is a very private person and she believes in nazar, she didn't really disclose her 'good' news to too many people, except her sister the Heroine actor Kareena Kapoor Khan, and her mother Babita. This isn't something unheard of; many elderly people advise pregnant women against telling anyone about the baby-to-be until the end of the first trimester. During her pregnancy, Lolo indulged in a piece of chocolate cake every day to feel good, she discloses. The actor has also discussed how children take time to settle into playschool and how that letting go could be traumatic for mothers.
How did Karisma Kapoor lose 24 kgs in nine months?
Karisma says, "After my first baby, I didn't do any yoga. I did regular gym and cardio routines that helped me shake all the weight off. After my second baby, I did power yoga and that too shook the weight off. You can go either way but I would highly recommend that, if you can afford it, you should employ a personal yoga trainer. It helps you stay motivated and lose weight faster." The actor managed to lose 24 kgs in nine months after delivery, all thanks to yoga and healthy living. Well, we are happy that she did it all, but she had a personal yoga trainer and nannies to take care of the kids, so it isn't really all that difficult. But how will your average reader manage it, Lolo? She obviously has to get back to work within a few months and has to take care of the family and the job. We know that this book is a personal account, but since your average reader is going to be a working mommie, you could probably have shared some basic managing and balancing tips for the average middle-class new mum.
Is My Yummy Mummy Guide really worth it?
The book is easy reading and can serve as a good reference for any expectant mother. The bullet point format is bang on, since long running paragraphs tend to get boring. The illustrations make for a good visual break. The 'affirmations' make sure that the reader will feel good at the end of every chapter. We found a few sections of the book repetitive, especially because women these days are well read and technology savvy, so there are plenty of similar dos and don'ts available online. What we found interesting is the personal connect that the actor establishes with the reader. Apart from the regular baby stuff, Karisma with Madhuri has touched upon several other aspects – like tackling children and talking to them about various issues, including bad touch vs good touch. One of the additions to the guide that we appreciate is the section on single and divorced moms.
Wethinks you don't necessarily have to be pregnant or a parent to buy this book – it has great weight loss tips and exercises and other information that is well worth reading!
My Yummy Mummy Guide by Karisma Kapoor is co authored by Madhuri Banerjee, published by Penguin Books India, Rs 399