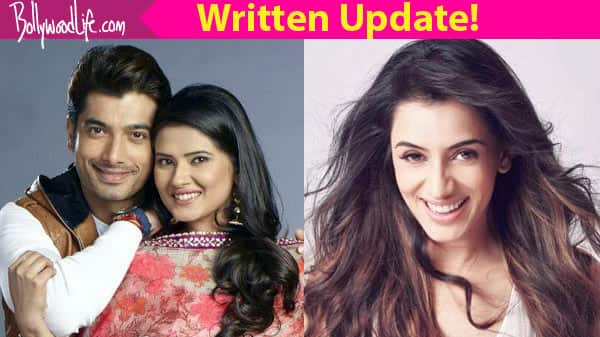 Rishi (Ssharad Malhotra) sees Tanuja (Kratika Sengar) in the hospital ward and gets emotional as she took the bullet for him. He wishes he could have saved Tanu the way he saved her and cries. He holds her hand and says that he is relieved to know that she is alive. Rano enters the room and is shocked to see Rishi with Tanuja. She scolds him for getting all emotional for Tanuja and reminds of what she has done. She asks him if he is even a tad bit worried about what Malaika is going through and that Tanuja is just trying to trick her into falling for her. Rano says that every time he sees Tanuja's face he forgets that she is not Tanu.
She makes him hates Tanuja again with her words. She also talks him into getting married to Malaika to get away from Tanuja. He tells her that no one can ever replace Tanu in his life. He leaves the hospital. Tanuja wakes up wondering how she got to the hospital when she remembers Rishi dropping her to the hospital. Rishi reaches home and asks Malaika if she will marry him. But he tells her that he will never touch her or be anywhere near her after the marriage. A happy Malaika agrees to all the conditions and tells him that she is just happy being married to him. Rano is in the hospital with Tanuja when Malaika calls her and tells her about Rishi's proposal. (ALSO READ: LEAKED! Ssharad Malhotra's uncensored love-making scene with Melanie Nazareth from Ek Tera Saath)
An excited Rano sees Tanuja wake up and goes to give her the good news. Rano tells Tanuja that Rishi wants to get married to Malaika and that he loves her. Rano is elated to see Tanuja's expressions and rubs salt on her wound. Malaika finds everyone in the living room and announces that she is getting married to Rishi. Everyone is shocked to hear it and she tells them that Rishi proposed to her. Raaj asks Rishi if he is sure about it when rano enters screaming that he is going to get married. Rishi says that he wants to get married as soon as possible.
Rano says that she already spoke to the pandit and they can get married in about 2-3 days. Raaj, Beeji and Ahana are not pleased with Rishi's decision. Just then Tanuja enters the house and they (Rishi and Tanuja) exchange looks.
Will Tanuja let Rishi marry Tanuja? Stay tuned to find out.