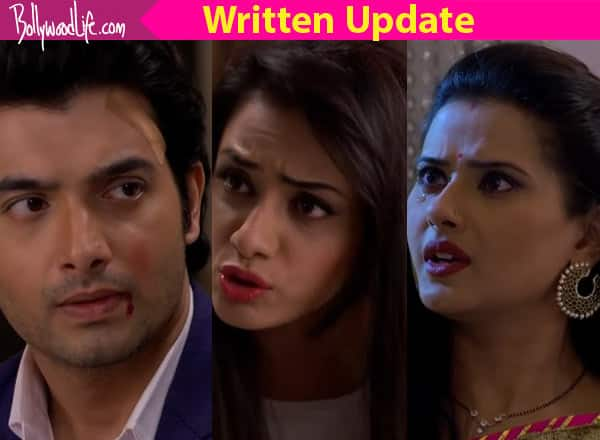 Tanuja (Kratika Sengar) gets shocked when Rishi (Ssharad Malhotra) tells her that he loves her. Tanuja figures that Malaika drugged Rishi to get close to him and feels relieved. She makes Rishi sit on the bed and gets up to leave. He stops her and tells her that he loves her. He starts reminiscing about their moments together and Tanuja sits to listen happily. He asks her if she loves him back passionately and she confesses her love. He asks her why she left him and she realises that he has been talking about Tanu all this while. He asks her to promise him that she will never leave him again.
He cries and rests his head on her lap. They promise to stay together for eternity. Meanwhile, Malaika is looking for her phone. She realises that she left it in Rishi's room and panics about Shekhar calling her. She calls Shekhar from the landline and tells him everything. The ideal boyfriend that he is, he gets mad at her for not making out with Rishi. She hangs up on him. Manpreet calls Raaj in the middle of the night to ask where he is and is shocked to find out that he is in Mount Abu. Rano overhears their conversation and starts panicking. Rano tells Manpreet that he is over there to keep an eye on Rishi and Tanuja. (ALSO READ: Kasam Tere Pyaar Ki 30th November 2016 Written Update, Full Episode: Tanuja throws Malaika out of her room, thanks to Raaj)
In the morning, Raaj sees Malaika in the hotel and asks why she is here. She tell him that she is here for a business meeting and he laughs at her excuse. He tells her that her innocent act won't work on him and he knows what she is up to. She denies trying to ruin Rishi and Tanuja's honeymoon when Raaj asks her not waste her time over here. He tells her that he will never let her ruin Rishi and Tanuja's relationship. Rishi wakes up in the morning, shocked that he was sleeping on Tanuja's lap and admires Tanuja thinking about how beautiful she looks while sleeping.
Raaj knocks on their door and Rishi goes to get it. He asks Rishi about the injury on his head to which he says that he slipped in the bathroom. Raaj tells Rishi that they look very cute together and says that he can see that they are in love. Rishi gets confused when Tanuja points that a strand of her hair is on his neck. What tests do Rishi and Tanuja have to go through now? Stay hooked with us to find out.
Kasam is a love story about rebirth and eternal love

Kasam-Tere Pyar Ki is Ssharad's third hit show in a row and his pairing with Kratika is absolutely loved by fans.

Image credit: Twitter

Ssharad Malhotra gives a funny expression to Kratika Sengar

Ssharad and Kratika as Rishi and Tanuja have married again. They are having their cute arguments as before.

Image credit: Twitter

Ssharad Malhotra is the typical cool dude on the show

Ssharad Malhotra plays Rishi Singh Bedi, who is in love with his childhood sweetheart, Tanu (Kratika Sengar). He is a tycoon who loves boxing.

Image credit: Twitter

Ssharad and Kratika in a romantic scene in the moonlight

The two have been paired opposite each other for the first time. Rishi and Kratika have great chemistry and people call them Tanshi.

Image credit: Twitter

Kratika Sengar as Tanu is sweet yet naughty

Rishi and Tanuja are married now but living as room-mates. Tanuja is annoying him with her cute antics.

Image credit: Twitter

Ssharad Malhotra as Rishi is a dreamy intense romantic

Rishi is not yet over his first love Tanu played by Kratika only. He wonders why Tanuja is so much like Tanu.

Image credit: Twitter

Tanuja feels strongly for Rishi but is unable to express it

Tanuja feels deep love for Rishi but cannot say it to him as he is still in love with Tanu. Will she be able to confess her love?

Image credit: Twitter

Ssharad Malhotra and Kartika Sengar in a romantic sequence

The fabulous chemistry between the lead pair makes the show highly watchable. The ratings revived after Kratika was brought back.

Image credit: Twitter

As Rishi and Tanu they have a love-hate relationship

Tanu and Rishi fight more often than they romance. That makes her their love story very endearing.

Image credit: Twitter

Ssharad and Kratika excel in the emotional scenes

Their love story has had its share of grief. Fans love Ssharad and Kratika so the jodi is back together.

Image credit: Twitter