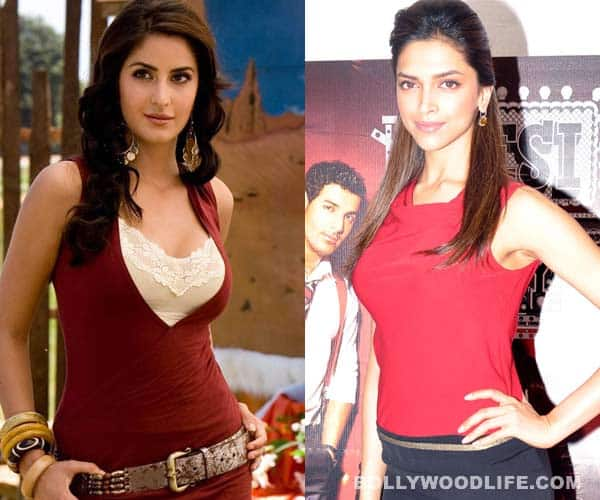 As per industry experts, the success of Dhoom:3 and Katrina's sensational act in the blockbuster has stormed back to the number one position
Katrina Kaif, out of choice, did not have a single release for over a year. There were some who questioned that decision, considering Deepika Padukone had managed to make a mark with four successes in Kaif's absence. But the unparalleled success of Dhoom:3 has changed the equations all over again. The film is on its way to be declared as Bollywood's biggest hit ever. And Kat's sensational act in the film has dwarfed the competition. Looks like Kat saved the best for the last — no wonder industry experts now believe that with D:3, she has reclaimed her position as the undisputed Numero Uno actor in the country.
When Kaif chose not to do any film until Dhoom:3 released, there were skeptics who believed she was making the wrong move. Industry watchers felt that this gamble wouldn't work because 'what would she have to do in an Aamir Khan film anyway?'
But Katrina followed her mentor Aditya Chopra's belief in her. And her confidence bore fruit. No heroine in the franchise (Dhoom) has benefited as much as Katrina. Aishwarya Rai Bachchan did make a huge impact in Dhoom:2 but the star of the show was easily Hrithik Roshan. However, in the latest installment of the series, Katrina is very much a factor for the repeat audience. Says a leading distributor from the North, "You have to see the reactions to Katrina's introduction song. Yash Raj did the best thing by not revealing much of the song on television."
The year was tough for Katrina. She didn't have any release; her personal life was under scrutiny. And then there were people who tried to hit her professionally by speculating about her marriage. The last big voice to resonate that was Kareena Kapoor Khan's on Koffee with Karan. Needless to add, Katrina quickly corrected that stating that she had no such plans in the immediate future.
It has been a good year for Deepika Padukone and one cannot ignore her successful run at the box-office. Maybe if Dhoom:3 hadn't created history like it did, Deepika would have been on a stronger wicket. But Adi Chopra's all-time blockbuster just keeps getting bigger with every passing day. Most importantly, Katrina has a larger role to play in its success and that's something that the audience as well as critics have agreed upon.
Trade analyst Taran Adarsh cannot believe how strongly Katrina has struck back. "She has certainly got back with a vengeance," he says. "One hit benefits everybody and changes the whole box-office popularity of a star. Katrina is definitely one of the main reasons, apart from Aamir and the Dhoom franchise, that D:3 is such a big hit. Katrina is still super hot."
"It's difficult for Deepika or any actress for that matter to have another year like the year gone by — where you have three successes," says a top exhibitor. "And then one film that is so huge, so beyond reach and so striking comes along and changes everything. Deepika will never have a year again when her closest contemporary, Katrina Kaif, won't have a single release. That time has come and gone."
The year 2014 will see the battle of supremacy getting fiercer. Katrina is well settled at the top once again. She has Bang Bang with Hrithik and Kabir Khan's next with Saif Ali Khan as her next big ones. But it's not just her. Deepika now has to watch her guard from even Parineeti Chopra and Anushka Sharma, who're tremendous performers and have a good slate of films coming up.
Trade speak
She is the only heroine to have a Rs 300-cr film: Komal Nahata
It was presumptuous and wrong of people to write off Katrina Kaif just because she didn't have any releases this year.She was always in the top bracket and with the huge success of Dhoom:3 she has shot up even more. Apart from breaking records like the fastest Rs100 crore bracket etc the film will soon cross Rs200 crore and estimated to gross R s300 crore in its lifetime figures.
She will then become the first and only heroine till now to have a Rs 300-crore film. While many things contributed to the success of Dhoom:3, including Aamir Khan, Katrina's song Kamli has tremendous repeat value. I have had many people tell me that after watching Kamli they were ready to walk out kyun ki unka paisa vasool ho gaya!
She's back on top: Vikas Mohan
Whatever Katrina has done it's a tremendous job and she has given 100 per cent to her performance. If people had been writing her off it's because of her own stupidity! She wasn't seen on screen the whole year. She has signed some good films next year — they become hits and she will be right back on top again!